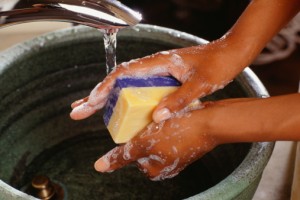 Last week CNN told the story here and here of Derreck Kayongo, a refugee from Uganda now living in Atlanta. His father was a soap-maker, and Mr. Kayongo is following in his footsteps, but with a nonprofit twist: he cleans and reprocesses discarded used soap bars from American hotels and ships them to Africa. He started the Global Soap Project, a U.S.-based non-profit organization, to do this.
An inspiring story of someone trying to turn waste into something good. That of course is great, and I like the ingenuity. And I admire how Mr. Kayongo has managed to navigate both the nonprofit and corporate space to figure out how to mobilize people to contribute the soap, and to coordinate delivery to people in need.
But is the best solution here really half-used soap?