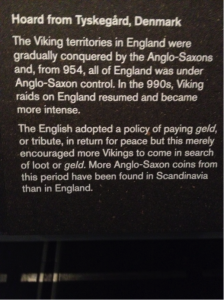 The new exhibition on the Vikings at the British Museum illustrates behavior along supply curves.  The local Anglo-Saxons decided that the best way to keep Viking raiders at bay was to buy them off—to pay tribute.  Perhaps unsurprisingly, this extra payoff merely induced a movement up the supply curve of Viking raids, as more raiding parties realized that there was money to be made by raiding English villages. Perhaps this is a lesson for modernity: don't negotiate with terrorists! Read More »
We have blogged and written extensively about the gender pay gap, much of which is not attributable to discrimination, as is commonly invoked. President Obama has taken up the cause; he recently signed two executive orders aimed at closing the gap.  Business Insider recently posted a state-by-state breakdown of the gender wage gap. It is interesting to look at but keep in mind the non-discriminatory factors that contribute to the gap, and therefore consider these numbers with some skepticism:
Wyoming has the biggest pay gap — the median male full-time worker made $51,932, and the median female full-time worker made $33,152. The male worker thus made 56.6% more than the female worker.

Washington, D.C. had the smallest gap — there, men make 11.0% more than women. Among the states, Maryland and Nevada had the smallest gaps, both at 17.2%.
Our latest Freakonomics Radio episode is called "'If Mayors Ruled the World.'" (You can subscribe to the podcast at iTunes, get the RSS feed, or listen via the media player above. You can also read the transcript, which includes credits for the music you'll hear in the episode.)
The episode expands on an idea from political theorist Benjamin Barber, whose latest book is called If Mayors Ruled the World: Dysfunctional Nations, Rising Cities
. Barber argues that cities are paragons of good governance – compared at least to nation-states – and that is largely due to their mayors. Mayors, Barber argues, are can-do people who inevitably cut through the inertia and partisanship that can plague state and federal governments. To that end, Barber would like to see a global "Parliament of Mayors," to help solve the kind of big, borderless problems that national leaders aren't so good at solving. Read More »
My mathematically inclined readers are cordially invited to enroll in "6.SFMx: Street-Fighting Math," which starts today on EdX. Like most (all?) MOOC courses, it is free and open to world, as are all the course materials.
So far, I have learned that teaching an entirely online course requires far more effort than teaching in person. Maybe by a factor of 10. Partly, it is the difference between talking to a friend on the phone—you just pick up the phone and start talking—compared to writing a long letter that needs to be thought out. To this difference you add that 10,000 others will also read and depend on the letter. You get nervous about making all the pieces right. They never will be, so you never rest easy. Read More »
BBC News reports the story of Arunachalam Muruganantham, a school dropout in rural India who invented a technology that could vastly improve reproductive health for women. The user-friendly technology relies on simple machines to produce sanitary pads at a low cost, a boon for women unwilling or unable to pay for the higher-priced sanitary pads in stores.
[Muruganantham] discovered that hardly any women in the surrounding villages used sanitary pads – fewer than one in 10. His findings were echoed by a 2011 survey by AC Nielsen, commissioned by the Indian government, which found that only 12% of women across India use sanitary pads.

Muruganantham says that in rural areas, the take-up is far less than that. He was shocked to learn that women don't just use old rags, but other unhygienic substances such as sand, sawdust, leaves and even ash.

Women who do use cloths are often too embarrassed to dry them in the sun, which means they don't get disinfected. Approximately 70% of all reproductive diseases in India are caused by poor menstrual hygiene – it can also affect maternal mortality.
Read More »
A new working paper (abstract; PDF) by Eli Berman, Michael Callen, Clark Gibson, and James D. Long looks at the effects of election interventions in fragile states, specifically Afghanistan. The results are encouraging:
International development agencies invest heavily in institution building in fragile states, including expensive interventions to support democratic elections. Yet little evidence exists on whether elections enhance the domestic legitimacy of governments. Using the random assignment of an innovative election fraud-reducing intervention in Afghanistan, we find that decreasing electoral misconduct improves multiple survey measures of attitudes toward government, including: (1) whether Afghanistan is a democracy; (2) whether the police should resolve disputes; (3) whether members of parliament provide services; and (4) willingness to report insurgent behavior to security forces.
A Freakonomics Radio listener named Kevin wrote in response to our recent episode called "Why Are Japanese Homes Disposable?" First, here's a quick summary of that episode:
It turns out that half of all homes in Japan are demolished within 38 years — compared to 100 years in the U.S.  There is virtually no market for pre-owned homes in Japan, and 60 percent of all homes were built after 1980. In Jiro Yoshida's estimation, while land continues to hold value, physical homes become worthless within 30 years. Other studies have shown this to happen in as little as 15 years.
Read More »
Racked interviews entrepreneur and professional line-sitter Robert Samuel.  Samuels started his line-sitting venture, Same Old Line Dudes (SOLD Inc.), as the iPhone 5 was launched:
I was an employee at AT&T, and I lost my job. I wanted to supplement my income because I used to sell iPhones, and this time I wasn't going to be able to sell them and make a big commission check. I live a few blocks from the Apple store on 14th Street, so I said, "Let me wait in line for somebody else and make them happy."

The guy that hired me cancelled and said he wasn't going to use me—he was just going to get it online but that he was still going to pay me. He paid me $100 and I resold the spot and made another $100, and then I called my friends and told them to come on down, because I just made $200 standing in one spot on a weekday afternoon.
Read More »
A new paper by graduate students David Broockman and Josh Kalla tackles an eternal, oft-debated question: does money buy influence? Here's the abstract:
Concern that lawmakers grant preferential treatment to individuals because they have contributed to political campaigns has long occupied jurists, scholars, and the public. However, the effects of campaign contributions on legislators' behavior have proven notoriously difficult to assess. We report the first randomized field experiment on the topic. In the experiment, a political organization attempted to schedule meetings between 191 Members of Congress and their constituents who had contributed to political campaigns. However, the organization randomly assigned whether it informed legislators' offices that individuals who would attend the meetings were contributors. Congressional offices made considerably more senior officials available for meetings when offices were informed the attendees were donors, with senior officials attending such meetings more than three times as often (p < 0.01). Influential policymakers thus appear to make themselves much more accessible to individuals because they have contributed to campaigns, even in the absence of quid pro quo arrangements. These findings have significant implications for ongoing legal and legislative debates. The hypothesis that individuals can command greater attention from influential policymakers by contributing to campaigns has been among the most contested explanations for how financial resources translate into political power. The simple but revealing experiment presented here elevates this hypothesis from extensively contested to scientifically supported.
Read More »
Last December, thousands of high school sophomores and juniors learned the results of the 2013 Preliminary SAT (PSAT) test.  The juniors' test scores will be used to determine whether they qualify as semifinalists for the prestigious National Merit Scholarship, which in turn makes them eligible for a host of automatic college scholarships.  (Sophomores take the test just as practice.)
The juniors will have to wait to find out for sure if they qualify until September, just before they begin submitting applications to colleges across the country.  But it is fairly straightforward to predict, based on their scores and last year's cutoffs, whether they will qualify as semifinalists.
Many students would be surprised to learn that qualification depends not only on how high they score, but also on where they go to school.   The National Merit Scholarship Corporation (NMSC) sets different qualifying cutoffs for each state to "ensure that academically talented young people from all parts of the United States are included in this talent pool."  They have not disclosed any specific criteria for setting the state cutoffs. Read More »
The Economist analyzes the microeconomics of Uber's controversial "surge" pricing model, in which users are charged significantly higher prices during high-demand times:
There is some evidence Uber's surge pricing is improving taxi markets. The firm says drivers are sensitive to price, so that the temptation to earn more is getting more Uber drivers onto the roads at antisocial hours. In San Francisco the number of private cars for hire has shot up, Uber says. This suggests surge pricing has encouraged the number of taxis to vary with demand, with the market getting bigger during peak hours.

However, the inflexibility of Uber's matchmaking fee, a fixed 20% of the fare, means that it may fail to optimize the matching of demand and supply. In quiet times, when fares are low, it may work well. Suppose it links lots of potential passengers willing to pay $20 for a journey with drivers happy to travel for $15. A 20% ($4) fee leaves both sides content. But now imagine a Friday night, with punters willing to pay $100 for a ride, and drivers happy to take $90: there should be scope for a deal, but Uber's $20 fee means such journeys won't happen.
Read More »