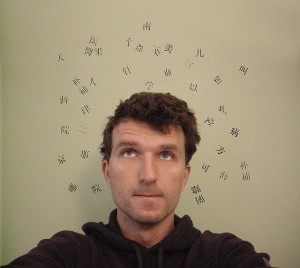 Our latest podcast is called "Is Learning a Foreign Language Really Worth It?" (You can download/subscribe at iTunes, get the RSS feed, listen via the media player above, or read the transcript.) We produced the episode in response to a question from a listener named Doug Ahmann, who wrote in to say:   
I'm very curious how it came to be that teaching students a foreign language has reached the status it has in the U.S. … My oldest daughter is a college freshman, and not only have I paid for her to study Spanish for the last four or more years — they even do it in grade school now! — but her college is requiring her to study EVEN MORE! 

What on earth is going on? How did it ever get this far?

In a day and age where schools at every level are complaining about limited resources, why on earth do we continue to force these kids to study a foreign language that few will ever use, and virtually all do not retain?

Or to put it in economics terms, where is the ROI? 
Great question, Doug! We do our best to provide some answers. Read More »
A new (gated) NBER paper looks at the relationship between breastfeeding and childhood disability.  The author, George Wehby, finds that a longer duration of breastfeeding is associated with a slightly lower risk of child disability:
Little is known about whether breastfeeding may prevent disabilities throughout childhood. We evaluate the effects of breastfeeding on child disability using data from the National Survey of Family Growth merged to the National Health Interview Survey for a large nationally representative sample of children aged 1 to 18 years from the U.S. including over 3,000 siblings who are discordant on breastfeeding status/duration. We focus on a mother fixed effect model that compares siblings in order to account for family-level unobservable confounders and employ multiple specifications including a dynamic model that accounts for disability status of the prior child. Breastfeeding the child for a longer duration is associated with a lower risk of child disability, by about 0.2 percentage-points per month of breastfeeding. This effect is only observed on the intensive margin among breastfed children, as any breastfeeding has no effect on the extensive margin. We conclude that very short breastfeeding durations are unlikely to have an effect on reducing disability risk.
Our "Riding the Herd Mentality" podcast argued that one surprisingly effective way to encourage pro-social behavior is to simply tell people that everybody else is already doing it.
A reader named Freek Rijna — "Jep, that's my real name and it's typically Dutch. :-)" — sends in this example from the Singapore subway. "Thought you might enjoy it," Freek writes. "Not sure about the penguins though …"
I see Freek's point. Also, I might have to stop for a minute to think whether "alighting" means getting off or getting on …
We've blogged before about how easy it is to create false memories. A new psychology study explores which of our senses are generally more influential in imprinting memory. "As it turns out, there is merit to the Chinese proverb 'I hear, and I forget; I see, and I remember," says James Bigelow, a graduate student at the University of Iowa who is lead author of the study.
From Pacific Standard:
The study consisted of two experiments that focused on short-term memory. Participants were exposed to different pictures, sounds, and objects to touch (shielded from view), and then asked to distinguish each thing from a similar item or identify it among a larger group. Sometimes participants' memories were tested after only a matter of seconds, but in other instances the study stretched the time before recall to a day or even a week. While the accuracy of the participants' memories declined across the board as time went on, the accuracy of their auditory recall plummeted more rapidly than that of the the other two senses.
Read More »
This is the first in a series of posts about the problem of excess fees charged to defined contribution retirement plans, a subject I've been researching with Quinn Curtis.  Our findings about the pervasiveness of excess fees spurred me to reassess my own retirement investments.  I was embarrassed to find that, among other things, my old Stanford University 401k was invested in "CREF Stock Account," which uses a combination of "active management, enhanced indexing and pure indexing" and charges 49 basis points (.49%) as its "Estimated Expense Charge."  Now 49 basis points is not an outrageously high fee, but it is substantially higher than the fees charged by a low-cost index. 
So I called TIAA-CREF and asked for help in rolling over my Stanford account to a Fidelity IRA.  The TIAA CREF rollover specialist asked why I wanted a rollover, we had the follow brief exchange: Read More »
A new NBER working paper (abstract; PDF) by Tom Chang, Joshua Graff Zivin, Tal Gross, and Matthew Neidell looks at how outdoor air pollution affects the productivity of indoor workers. They studied the effect of PM2.5, "a harmful pollutant that easily penetrates indoor settings," on employees at a pear-packing factory in California, and the potential cost savings of eliminating such pollution:
We find that an increase in PM2.5 outdoors leads to a statistically and economically significant decrease in packing speeds inside the factory, with effects arising at levels well below current air quality standards. In contrast, we find little effect of PM2.5 on hours worked or the decision to work, and little effect of pollutants that do not travel indoors, such as ozone. This effect of outdoor pollution on the productivity of indoor workers suggests a thus far overlooked consequence of pollution. Back-of-the-envelope calculations suggest that nationwide reductions in PM2.5 from 1999 to 2008 generated $19.5 billion in labor cost savings, which is roughly one-third of the total welfare benefits associated with this change.
We recently put out four Freakonomics Radio episodes that developed an arc of a theme: "Reasons to Not Be Ugly," "What You Don't Know About Online Dating," "Why Marry? (Part 1)" and "Why Marry? (Part 2)." These episodes prompted a lot of interesting listener/reader replies. Here is a particularly interesting one, from a woman we'll call R.:
I recently listened to your podcast on online dating and found it fascinating — not so much because of the economics of dating, but more how it contrasted and compared with the economics of the dating world I live in: the Orthodox Jewish semi-arranged marriages.

I grew up in upstate New York, in a village that is almost only Haredi Orthodox. The world I live in is sort of like Jane Austen, very marriage-oriented. Every girl (and boy for that matter) wants to get married, and does so in her early twenties. The systems at play to get everyone married off must fascinate an outsider. Out of my class of about sixty, about 95% got married within the first five years out of school. So far, only one girl is divorced. It's hard to quantify happiness in all these marriages but from what my friends tend to tell me, most seem very happy in their relationships. I know that the Orthodox Union has done research into the area. They collected a lot of data by surveying thousands of Orthodox couples, including Haredim, with in-depth online questionnaires. While I have not examined their data (and what a treasure trove that must be to an economist!) I think that this success in matching quickly, efficiently, and happily is due to changing the incentives you talk about in your podcast. The entire process seems to have been designed to reduce outer beauty from being the main incentive in a marriage market.
Read More »
Artists may often be eccentric, but does eccentricity increase the worth of an artist's work?  That's the question asked by psychologists Wijnand van Tilburg and Eric Igou in a new paper on eccentricity and art. Here's a summary from BPS Research Digest:
Wijnand van Tilberg and Eric Igou tested these ideas across five studies. In the first, 38 students rated a painting by Van Gogh more positively if they were first told about the ear-cutting incident. In two other studies, dozens more students rated paintings by a fictional Icelandic artist more positively and estimated it to be more valuable if they were told he had an eccentric personality, or if they saw a photograph showing him looking eccentric, unshaven with half-long hair (as opposed to seeing a photo showing him looking conventional, with short hair and neat clothing).
Read More »
Our very first Freakonomics Radio podcast focused on brain trauma among NFL players, and its link to chronic traumatic encephalopathy. Researchers now believe they've identified the first case of C.T.E. in a soccer player; from The New York Times:
Chronic traumatic encephalopathy, the degenerative brain disease linked to repeated blows to the head, has been found posthumously in the brain of a 29-year-old former soccer player, the strongest indication yet that the condition is not limited to athletes who played violent collision sports like football and boxing.

The researchers at Boston University who have diagnosed scores of cases of C.T.E. said Patrick Grange of Albuquerque represents the first named case of C.T.E. in a soccer player. On a four-point scale of severity, his was considered Stage 2.
Read More »
Our recent podcast, "What You Don't Know About Online Dating," offered an economist's guide to dating online. Here's one more perk: a report by CovergEx Group estimates that online dating is more cost-efficient than traditional dating. From Business Insider: 
The ConvergEx folks, using data from statisticbrain.com, note the average courtship time for "off-line," traditional dating ahead of a marriage runs around 42 months – or two years longer than the 18.5-month, average dating-to-marriage cycle for people who meet online.

And using that data, they came up with a formula.
Read More »
Watching The Wolf of Wall Street was a guilty pleasure for me.  It wasn't that the movie valorizes Jordan Belfort's crimes, which defrauded victims of more than a hundred million dollars, but I felt uneasy about being entertained by a work of art indirectly derived from the pain of others – especially since it wasn't clear that the injured parties were participating in the movie's profits.
The movie literally and figuratively kept the victims of Belfort's fraud outside the frame. In only a few scenes do we hear even the disembodied voices of the defrauded investors.  But imagine what it would be like to watch the movie in the presence of one of Belfort's 1,500 real-life victims, whose ranks included architects, engineers, insurance agents, real estate appraisers, and other middle-class professionals.
The movie repeats Belfort's claim that his firm only targeted the super-rich. The idea is that we needn't worry so much about who was hurt by these crimes, because these investors were so wealthy that they wouldn't be as impacted by the loss of a few dollars. But some of his victims' families tell a very different story: "My father lost practically a quarter-million dollars," said one man, whose father, an engineer, was cold-called at home by a Stratton broker. His father suffered a stroke under the stress of his losses. As another investor puts it: "I'm not a rich guy, and I've been paying for it ever since." Read More »