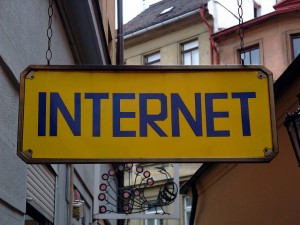 This week's podcast is a rebroadcast of our episode called "Who Runs the Internet?" (You can subscribe to the podcast at iTunes, get the RSS feed, or listen via the media player above. You can also read the transcript; it includes credits for the music you'll hear in the episode.)
Does virtual mayhem — from online ranting to videogame violence — help reduce mayhem in the real world? Though Steve Levitt says there is no solid data on this. Read More »
Considering its own company name, you wouldn't think so. But here's what I ran into during a recent spell-check: Read More »

This week's podcast is a rebroadcast of our episode called "Parking Is Hell." (You can subscribe at iTunes, get the RSS feed, or listen via the media player above. You can also read the transcript; it includes credits for the music you'll hear in the episode.)
The episode begins with Stephen Dubner talking to parking guru Donald Shoup, a professor of urban planning at UCLA and author of the landmark book The High Cost of Free Parking
. In a famous Times op-ed, Shoup argued that as much as one-third of urban congestion is caused by people cruising for curb parking. Read More »

This week's podcast is a rebroadcast of our episode called "What Do Medieval Nuns and Bo Jackson Have in Common?" (You can download/subscribe at iTunes, get the RSS feed, or listen via the media player above. You can also read the transcript; it includes credits for the music you'll hear in the episode.)
The episode is about spite. As in "cutting off your nose to spite your face" spite. Lisi Oliver of Louisiana State University tells us about the probable origin of this phrase while the economist Benedikt Herrmann tries to measure spite in the lab (papers are here, here and here). Read More »

This week's podcast is a rebroadcast of our episode called "Should Tipping Be Banned?" (You can download/subscribe at iTunes, get the RSS feed, or listen via the media player above. You can also read the transcript; it includes credits for the music you'll hear in the episode.)
As we all know, the practice of tipping can be awkward, random, and confusing. This episode tries to offer some clarity. At its center is Cornell professor Michael Lynn, who has written 51 academic papers on tipping. Read More »

This week's podcast is a rebroadcast of our episode called "How Much Does Your Name Matter?" (You can download/subscribe at iTunes, get the RSS feed, or listen via the media player above. You can also read the transcript; it includes credits for the music you'll hear in the episode.)
The gist: a kid's name can tell us something about his parents — their race, social standing, even their politics. But is your name really your destiny? Read More »
We routinely hear from people who've heard about our Freakonomics Radio podcast, but feel somewhat shut out from the podcasting world because they don't use an iPhone or iTunes. So here are some alternative options:
1) For Android Users
We've heard great things about Pocket Casts, which, for $3.99, syncs your favorite podcasts and keeps them backed up. You can also stream it to your Chromecast. Pocket Casts also works for Apple devices.
2) Windows Users
You actually don't need a third-party app to stream, download, or subscribe to podcasts. It's super simple: here are instructions. If you use a Windows phone, you can download the Podcast Lounge app to subscribe and listen to Freakonomics Radio. Read More »

This week's episode is called "Does Religion Make You Happy?" (You can subscribe to the podcast at iTunes, get the RSS feed, or listen via the media player above. You can also read the transcript, which includes credits for the music you'll hear in the episode.)
We undertook this episode in response to a listener question from Joel Rogers, a tax accountant in Birmingham, Ala. Here's what he wrote:
Being devout Southern Baptists my parents have steadfastly been giving 10% of their income to the church their whole lives. I recently voiced my opinion that I thought that was too [much to] give, and my parents and I got into an argument.

After a little back-and-forth, my parents conceded tithing at 10% may not be the exact amount 'God' expects, but my mother said something that stuck with me. She said the 10% they give to the church makes them happier than anything else they spend money on.
Read More »

This week's episode is called "Why You Should Bribe Your Kids." (You can subscribe to the podcast at iTunes, get the RSS feed, or listen via the media player above. You can also read the transcript, which includes credits for the music you'll hear in the episode.)
Let's say you're trying to get a bunch of kids to eat more nutritious food. What's the best way to do this — education, moral urging, or plain old bribery? That's one of the questions that a pair of economists set out to answer in a recent field experiment in Chicago. In this podcast, you'll hear from both of them: John List, a University of Chicago professor (and co-author of The Why Axis
who's familiar to readers of this blog); and Anya Samek, who teaches at the University of Wisconsin-Madison. Read More »
From the (U.K.) Times:
Up to a million obese people will be offered weight-loss surgery on the NHS, under controversial new guidelines.

The National Institute for Health and Care Excellence (Nice) has ruled that all obese people who have been given a diagnosis of type 2 diabetes in the past decade should be considered for stomach bands and bypasses. …

Patient groups questioned how the health service would cope with the up-front cost, potentially running into billions of pounds, at a time when waiting lists for treatment have topped three million, the highest for six years. …
Read More »

This week's episode is called "What Do King Solomon and David Lee Roth Have in Common?" (You can subscribe to the podcast at iTunes, get the RSS feed, or listen via the media player above. You can also read the transcript, which includes credits for the music you'll hear in the episode.)
The gist? It isn't easy to separate the guilty from the innocent — but a clever bit of game theory can help. The goal, as Steve Levitt puts it, is "to get the bad guys to come forward and tell you who they are." It's a trick that Levitt and Stephen Dubner , in their new book Think Like a Freak
, call "teaching your garden to weed itself."
In the episode you'll hear what David Lee Roth and King Solomon have in common. Among the possibilities: Read More »