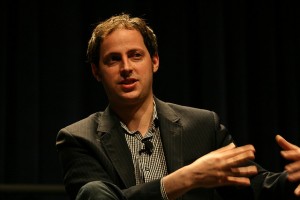 Nate Silver: "One of the most profound lessons to me
about adulthood is that everyone is kind of weird."
(Photo: Randy Stewart)
Our latest Freakonomics Radio episode is called "Nate Silver Says: 'Everyone Is Kind of Weird" (You can subscribe to the podcast at iTunes or elsewhere, get the RSS feed, or listen via the media player above. You can also read the transcript, which includes credits for the music you'll hear in the episode.) Read More »
In celebration of the 10th anniversary of Freakonomics comes this curated collection from the most readable economics blog in the universe. When Freakonomics was first published, its authors, Steven D. Levitt and Stephen J. Dubner, started a blog — and they've kept it up. The writing is more casual, more personal, even more outlandish than in their books. In When to Rob a Bank, they ask a host of typically off-center questions: Why don't flight attendants get tipped? If you were a terrorist, how would you attack? And why does KFC always run out of fried chicken? Read More »
Our latest Freakonomics Radio episode is called "Diamonds Are a Marriage Counselor's Best Friend." (You can subscribe to the podcast at iTunes or elsewhere, get the RSS feed, or listen via the media player above. You can also read the transcript, which includes credits for the music you'll hear in the episode.) The gist of the episode: It may seem like winning a valuable diamond is an unalloyed victory. It's not. It's not even clear that a diamond is so valuable. Read More »

Our latest Freakonomics Radio episode is called "How Many Doctors Does It Take to Start a Healthcare Revolution?" (You can subscribe to the podcast at iTunes or elsewhere, get the RSS feed, or listen via the media player above. You can also read the transcript, which includes credits for the music you'll hear in the episode.) The gist of the episode: The practice of medicine has been subsumed by the business of medicine. This is great news for healthcare shareholders — and bad news for pretty much everyone else. Read More »

Our latest Freakonomics Radio episode is called "How Do We Know What Really Works in Healthcare?" (You can subscribe to the podcast at iTunes or elsewhere, get the RSS feed, or listen via the media player above. You can also read the transcript, which includes credits for the music you'll hear in the episode.) The gist of the episode: a lot of the conventional wisdom in medicine is nothing more than hunch or wishful thinking. A new breed of data detectives is hoping to change that. Read More »
In a new working paper, Roland Benabou, Davide Ticchi, and Andrea Vindigni  follow up their earlier paper which found "a robust negative association between religiosity and patents per capita." Their new paper, "Religion and Innovation" (abstract; PDF), they look at religiosity on the individual level, "examining the relationship between religiosity and a broad set of pro- or anti-innovation attitudes." Read More »
A reader writes in with a question that is hard to answer. I thought it'd be best to put the question to you, our readers; hopefully you can help him find his way to a good decision.
Hello:

I am an academic plant geneticists, who has worked at [a renowned academic institution] for the last five years. I've pretty much decided I want to leave academia but remain in science. The obvious direction to then go into is biotech and I think I could be a good fit for it. There are many options for me in biotech and I've applied for many jobs. The company that has been the most responsive to me is Monsanto.
Read More »
From a reader named John Keaney: I just finished your book Think Like a Freak, and I'm trying to use the lessons in the book while I'm in Kyrgyzstan. I'm an undergraduate at University of South Carolina, and I've decided to pursue my very first, independent research project while I'm living in Kyrgyzstan on the […] Read More »
We'll be putting out a new Freakonomics Radio episode later this week on the use of RCTs (randomized controlled trials) in healthcare delivery. It features the work of the MIT economist Amy Finkelstein and her colleagues at J-PAL, and it includes their analysis of what happened when Oregon expanded its Medicaid coverage. If you want […] Read More »

This week's Freakonomics Radio episode is a rebroadcast of the episode "The Perfect Crime" (You can subscribe to the podcast at iTunes or elsewhere, get the RSS feed, or listen via the media player above. You can also read the transcript, which includes credits for the music you'll hear in the episode.)
But let's be clear: Dubner isn't suggesting that anyone actually try this. In fact, the problem is that too many people are doing it already.

So what's "the perfect crime"? It turns out that if you are driving your car and run over a pedestrian, there's a good chance — especially if you live in New York — that you'll barely be punished. Why?

We hear from Lisa Smith, a former prosecutor and now a law professor, who tells us that just 5 percent of the New York drivers who are involved in a fatal crash with a pedestrian are arrested. As it happens, New York has particularly narrow standards for conviction in such cases; there is a lot of variance among states.
Read More »
This week's Freakonomics Radio episode is a rebroadcast of the episode "What You Don't Know About Online Dating" (You can subscribe to the podcast at iTunes or elsewhere, get the RSS feed, or listen via the media player above. You can also read the transcript, which includes credits for the music you'll hear in the episode.) Read More »