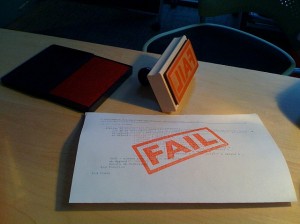 Our latest podcast is called "Government Employees Gone Wild." (You can download/subscribe at iTunes, get the RSS feed, or listen via the media player in the post. You can also read the transcript below; it includes credits for the music you'll hear in the episode.)
It's about a book that I've come to love -- a most unusual book. What makes it unusual?
1. It is made available online, as a Word document, but is not actually published.

2. It is free (or, more accurately, it's already been paid for -- by U.S. taxpayers).

3. It is published by the U.S. Department of Defense.
This unusual book is called The Encyclopedia of Ethical Failure, and you can get it here (2013 additions here). What is it? It's an ethics guide for  government employees, full of true stories about epic screw-ups. In the podcast, you'll hear from the Encyclopedia's founding editor (Steve Epstein) and its current editor (Jeff Green).