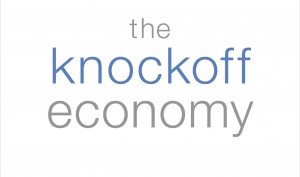 We want to thank everyone for their questions -- it's great to see people responding to, critiquing and, in some cases, tweaking, the ideas we set out in The Knockoff Economy. We are fascinated by the complex relationship between copying and creativity -- and we're thankful that many of you are as well.  So, to the Q&A . . .
Q. The issue that concerns my industry most is internet sales of prescription skin products such as retin-A and hydroquinone. Some might be counterfeit, but many are probably diverted products. The manufacturer sells them to a physician, the unscrupulous physician sells them on the internet at a deep discount, the patient may be hurt by expired or dangerous medications or may not use them correctly even if they are real. This hurts legitimate physicians by drawing business away from them, but also hurts a manufacturer's reputation. (Apparently, people who have qualms about buying Viagra online don't think twice before buying skin medications from those same sources.)
Do you plan to do any research in this area? Will you be looking at diversion in addition to counterfeits?