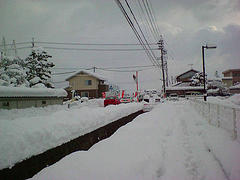 A reader named Mark Weitzman calls our attention to a Yomiuri Shimbun article with a provocative claim:
Quake efforts blamed for rise in snow mishaps

This winter's heavier snowfall has seen more than 500 people across seven prefectures die or become injured in snow-related accidents, including cases in which they had been trying to remove snow, it has been learned.

People are trying to remove snow themselves using shovels and other tools because of delays in municipal-led snow removal. The delays have been caused by a shortage of dump trucks--many of which are being used in areas affected by the Great East Japan Earthquake for reconstruction work--to transport snow.

According to data compiled by the Akita, Aomori, Ishikawa, Nagano, Niigata, Toyama and Yamagata prefectural governments, the death toll from such snow-related accidents had reached 31 as of Wednesday, while 479 people had sustained injuries.