Retirement Kills (Ep. 75)
Are you bummed out that you might have to postpone retirement for financial reasons?
Well, there may be a silver lining: it looks like retirement may be bad for your health. That's the topic of our latest Freakonomics Radio on Marketplace podcast, "Retirement Kills." (You can download/subscribe at iTunes, get the RSS feed, listen via the media player above, or read the transcript here.)
The Great Recession has put a lot of retirement plans on hold, often at the behest of governments who can't afford to pay pensions. Germany, the U.K., and France have all upped their retirement ages.  And the U.S. is seeing a lot more older workers as well. Lisa Boily of the Bureau of Labor Statistics tells us that people 55 and older are expected to represent 25 percent of the labor force by 2020.
Part of this is simple demographics — the graying of the baby boom — but Americans are also working longer. In fact, the share of workers over 65 is the highest it's been in more than 50 years: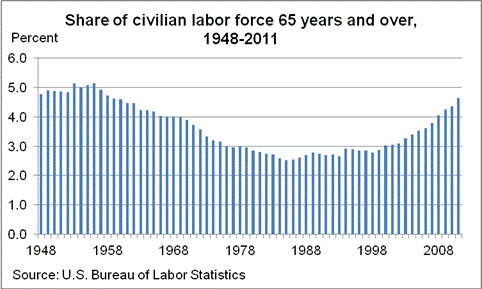 This trend may depress you, but consider the upside. The economist Josef Zweimuller, at the University of Zurich, recently co-authored a study which found that early retirement, as much as we may crave it, seems to be bad for our health:
"[A]mong blue-collar workers, we see that workers who retire earlier have a higher mortality rates and these effects are pretty large."
The study showed that for every extra year of early retirement, workers lost about two months of life expectancy. Nor is this the first study to show a strong relationship between early retirement and earlier death.
There's much more to hear on the subject in the podcast, including observations from University of Florida psychologist Mo Wang, who studies retirement, and Steve Levitt, who's got his own plan to retire and keep working at the same time.