The Power of the President — and the Thumb
Our Freakonomics Radio project includes a regular podcast and Marketplace segment. But twice a year, we also produce a set of five one-hour specials that play on public-radio stations across the country. Find a station near you.
Season 2, Episode 3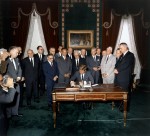 In this episode we ask a simple, heretical question: How much does the President of the United States really matter? Stephen Dubner talks to former Defense Secretary Donald Rumsfeld, economists Austan Goolsbee and Justin Wolfers, and constitutional scholar Bernadette Meyler about how the President's actual influence can be measured. And Steve Levitt weighs in on how the President shapes the nation.
Also in this episode, we look at another supposed truism: hitchhiking is terribly dangerous. But is that really true? Hitchhiking has practically disappeared in America, but why? Was it really as dangerous as we believed? Even if so, what other factors were at play?
We talk to data wizard Bill James, who says our risk aversion to hitchhiking makes it more dangerous, and transportation scholar Alan Pisarski, who looks at how hitchhiking can inform future transportation policy. Would society be better off with more hitchhiking?