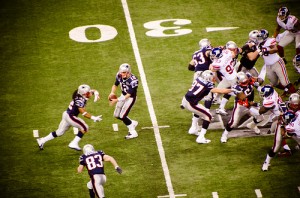 One of the amazing things about the Super Bowl game this past weekend was that both coaches understood that the Patriots would be better off if the Giants scored a touchdown late in the game and reportedly instructed their teams accordingly.  To my mind, this represents a high point in the prevalence of strategic thinking. 
Was the failure of Ahmad Bradshaw to follow through on his coach's instruction merely a failure of execution?
But I wonder whether the Giants failed to strategically optimize on the very next play selection.  With about a minute left in the game (and with a timeout remaining for the Patriots), the Giants choose to go for a two-point conversion.  My question is not about whether they should have kicked a point after.  No, I wonder whether they might have done better by handing the ball to a swift runner, who might have even more perversely attempted to forgo scoring two points and instead tried to burn as many seconds off the clock as possible by merely running away from the other team (toward, but not into, the other endzone!).