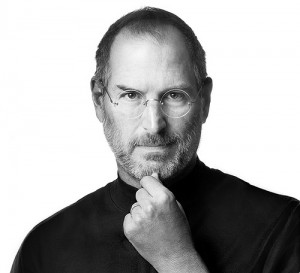 This is a cross-post from James Altucher's blog Altucher Confidential. His previous appearances on the Freakonomics blog can be found here.
I saw the news this morning when I looked at my iPad. Whenever I wake up, the first thing I do, before even going to the bathroom, is turn on the iPad and check the news. My heart sank when I saw the headline: Steve Jobs, dead at 56.
From my first Apple product (an Apple II+), to doing all my homework in college on the first Macintosh, to reading this news on my iPad, to typing this sentence on my Macbook Air, so much of my life has been influenced and changed by this man. Very sad day. My question for readers (please answer in the comments section) is: what was your first Apple product?
And now, here's an essay I've written about Jobs:
I was standing right next to Steve Jobs in 1989, and felt completely inadequate. The guy was incredibly wealthy, good-looking: a nerd super-rockstar who had just convinced my school to buy a bunch of NeXT computers, which were in fact the best machines to program on at the time. I wanted to be him, badly.