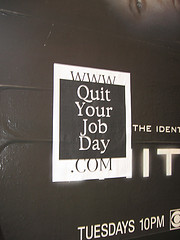 I realized I had been a bit misleading. I looked at my blog post "Ten Reasons You Need to Quit Your Job," I realized that I said 90% of people "should" quit their jobs and I gave 10 reasons for recognizing if now is the right time for you to leave. But that's a little different than saying, you have to quit right now.
But the reality is, most people need to begin their exit strategy right now.
So here are the 10 reasons you need to quit your job right now. And below that I have the methods for doing it.