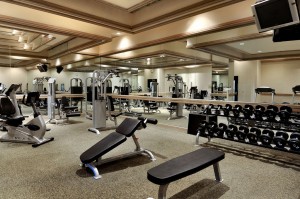 A New York City apartment building has a gym that only certain tenants can use. Which tenants? The newer ones who are paying market-rate rents -- and not the ones who've lived there long enough to qualify for much cheaper, government-subsidized rent. Some tenants call this "fitness apartheid." What do economists call it?
That's what this week's show is about. The episode is called "Fitness Apartheid." (You can subscribe to the podcast at iTunes, get the RSS feed, or listen via the media player above. You can also read the transcript, which includes credits for the music you'll hear in the episode.)
You'll hear Theda Palmer Saxton and Jean Green Dorsey, both residents of Stonehenge Village, the building on the Upper West Side of Manhattan with the controversial gym. Stephen Dubner also talks to Steve Levitt and Daniel Hamermesh, a  professor of economics at Royal Holloway University of London and Professor Emeritus at the University of Texas at Austin. (Hamermesh was on the show most recently talking about discrimination and looks.) As you'll hear, Levitt and Hamermesh have pretty different points of view.