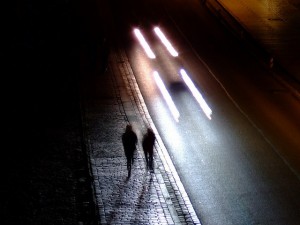 This week's Freakonomics Radio episode is a rebroadcast of the episode "The Perfect Crime" (You can subscribe to the podcast at iTunes or elsewhere, get the RSS feed, or listen via the media player above. You can also read the transcript, which includes credits for the music you'll hear in the episode.)
But let's be clear: Dubner isn't suggesting that anyone actually try this. In fact, the problem is that too many people are doing it already.

So what's "the perfect crime"? It turns out that if you are driving your car and run over a pedestrian, there's a good chance -- especially if you live in New York -- that you'll barely be punished. Why?

We hear from Lisa Smith, a former prosecutor and now a law professor, who tells us that just 5 percent of the New York drivers who are involved in a fatal crash with a pedestrian are arrested. As it happens, New York has particularly narrow standards for conviction in such cases; there is a lot of variance among states.