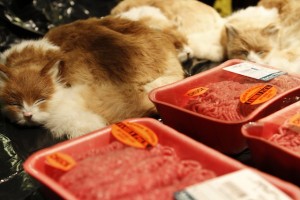 If there's a death in your family and you choose to have your loved one cremated, wouldn't you expect that the remains that are returned to you belong specifically to your beloved? Of course you would!
Would you expect the same if the dearly departed happens to be the family pet? I suspect the answer is still yes. But in the fast-growing pet-cremation business, how do you know that the remains you're getting back are indeed from your pet?
That's the question we ask in our latest podcast, "The Troubled Cremation of Stevie the Cat." (You can download/subscribe at iTunes, get the RSS feed, or listen via the media player in the post. You can also read the transcript; it includes credits for the music you'll hear in the episode.)
According to government statistics, there are well over 200 million pets in America, not counting pet fish. (Why government statistics don't include fish -- we don't know; maybe that's an episode for another day.) And we spend a lot of money on these pets, about $61 billion a year. One area that is growing very fast: pet "aftercare." The International Association of Pet Cemeteries and Crematories (IAPCC) tells us that ten years ago, only a handful of places specialized in pet aftercare. Today, there are more than 700 pet funeral homes, crematories and cemeteries. (Or, as Bloomberg Businessweek puts it, "There's Never Been a Better Time to Be a Dead Pet.") With so much money being spent, and with death being so fraught with emotion and mystery, might there be some misbehavior going on?