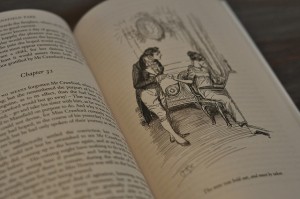 Our latest podcast is called "Jane Austen, Game Theorist." (You can download/subscribe at iTunes, get the RSS feed, or listen via the media player above. You can also read the transcript; it includes credits for the music you'll hear in the episode.) 
It is an episode about, yes, Jane Austen and game theory. To which you might say ... wha?
Okay, a bit more explanation is necessary. Michael Chwe is an associate professor of political science at UCLA whose research centers on game theory and, as he puts it, "its applications to social movements and macroeconomics and violence -- and this latest thing is about its applications maybe to literature."
The literature in question? The novels of Jane Austen
. Chwe discovered that Austen's novels are full of strategic thinking, decision analysis, and other tools that would later come to be prized by game theorists like those as the RAND Corporation just after World War II. (They included some of the brightest minds of the time, including Kenneth J. Arrow, Lloyd S. Shapley, Thomas Schelling, and John Nash.) And so Chwe wrote a book called Jane Austen, Game Theorist.