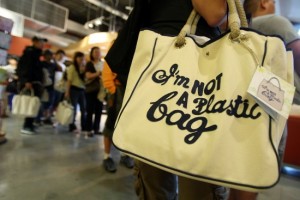 Remember when keeping up with the Joneses meant buying a diamond-encrusted cigarette case? Such ostentatious displays of wealth during the Gilded Age prompted economist Thorstein Veblen to coin the term conspicuous consumption.
Conspicuous consumption has hardly gone away -- what do you think bling is? -- but now it's got a right-minded cousin: conspicuous conservation. Whereas conspicuous consumption is meant to signal how much green you've got, conspicuous conservation signals how green you are. Like carrying that "I'm not a plastic bag" bag, or installing solar panels on the side of your house facing the street -- even if that happens to be the shady side.
Conspicuous conservation is the theme of our latest podcast, called "Hey Baby, Is That a Prius You're Driving?" (You can download/subscribe at iTunes, get the RSS feed, listen live via the embedded media player, or read the transcript here.) It centers around a paper by Alison and Steve Sexton, a pair of Ph.D. economics candidates (who happen to be twins, and who happen to have economist parents), called "Conspicuous Conservation: The Prius Effect and Willingness to Pay for Environmental Bona Fides." Why single out the Toyota Prius?