How Much Does Your Name Matter? (Ep. 122 Rebroadcast)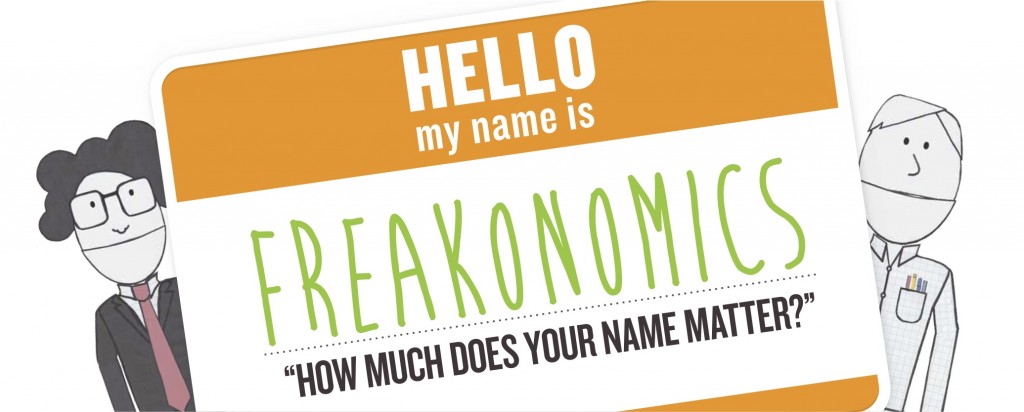 This week's podcast is a rebroadcast of our episode called "How Much Does Your Name Matter?" (You can download/subscribe at iTunes, get the RSS feed, or listen via the media player above. You can also read the transcript; it includes credits for the music you'll hear in the episode.)
The gist: a kid's name can tell us something about his parents — their race, social standing, even their politics. But is your name really your destiny?
The episode draws from a Freakonomics chapter called "A Roshanda By Any Other Name" and includes a good bit of new research on the power of names. We talk with NYU sociologist Dalton Conley and his two children, E Harper Nora Jeremijenko-Conley and Yo Xing Heyno Augustus Eisner Alexander Weiser Knuckles Jeremijenko-Conley. Harvard professor Latanya Sweeney talks about Google ads, and how a search for people with distinctively black names was more likely to produce an ad suggesting the person had an arrest record – regardless of whether that person had ever been arrested. We also talk to Eric Oliver, a political scientist at the University of Chicago, about his new research that looks at how children's names are influenced by their parents' political ideology. Lastly, Steve Levitt and Roland Fryer argue that a first name doesn't seem to affect a person's economic life at all.
We hope you enjoy this episode, whatever your name might be.