How Much Does Your Name Matter? (Ep. 122)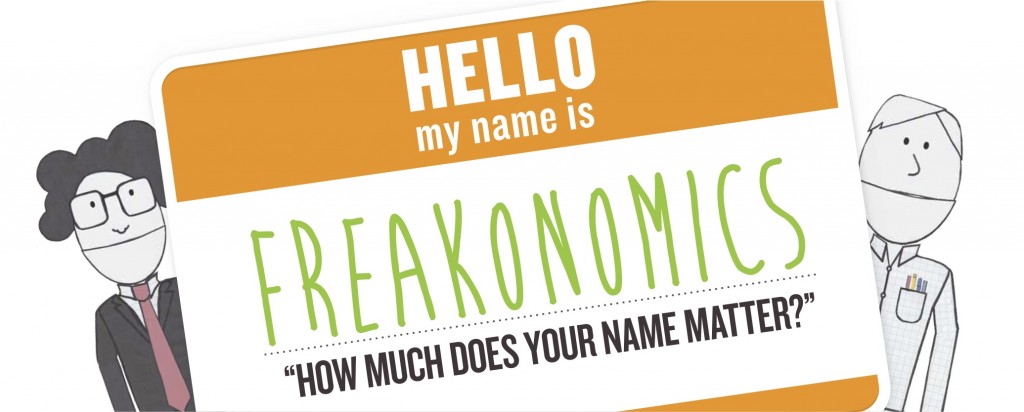 Our latest Freakonomics Radio podcast is called "How Much Does Your Name Matter?" (You can download/subscribe at iTunes, get the RSS feed, or listen via the media player above. You can also read the transcript; it includes credits for the music you'll hear in the episode.)
The gist: a kid's name can tell us something about his parents — their race, social standing, even their politics. But is your name really your destiny?
The episode draws from a Freakonomics chapter called "A Roshanda By Any Other Name" and includes a good bit of new research on the power of names. It opens with a conversation with NYU sociologist Dalton Conley and his two children, E and Yo. Their names are a bit of an experiment:
CONLEY: Of course it's hard to separate out cause and effect here until Kim Jong-Un allows me to randomly assign all the names of the North Korean kids…but my gut tells me that it does affect who you are and how you behave and probably makes you more creative to have an unusual name.
Indeed, there is some evidence that a name can influence how a child performs in school and even her career opportunities. There's also the fact that different groups of parents — blacks and whites, for instance — have different naming preferences. Stephen Dubner talks to Harvard professor Latanya Sweeney about a mysterious discrepancy in Google ads for Instant Checkmate, a company that sells public records. Sweeney found that searching for people with distinctively black names was 25% more likely to produce an ad suggesting the person had an arrest record – regardless of whether that person had ever been arrested.
So you might think that names make a big difference. But Steve Levitt insists otherwise. In a paper called "The Causes and Consequences of Distinctively Black Names," Levitt and Roland Fryer argue that a first name doesn't seem to affect a person's economic life at all.
Names do, however, reveal a lot about the people doing the naming. Eric Oliver, a political scientist at the University of Chicago, talks about his new research (with co-authors Thomas Wood and Alexandra Bass) that looks at how children's names are influenced by their parents' political ideology:
OLIVER: [O]ur educated liberal mothers tend to be choosing names that are obscure cultural references. And so these are the Esmés and the Unas and the Archimedes and the Emersons. And we think this is a way that liberals sort of signal their cultural — for lack of a better word — their sense of cultural superiority.
Finally, you'll hear filmmaker Morgan Spurlock talk about his take on the names debate in the Freakonomics film.
Throughout the episode, you'll hear from podcast listeners who called in to our names hotline. Thank you to everyone who participated. Even though we were able to use only a few of the messages, it was great fun to hear from all of you about your wild and wonderful names.