How to Raise Money Without Killing a Kitten (Ep. 141 Rebroadcast)
It's fundraising season again here at Freakonomics Radio. This episode is a rebroadcast of the first time that we asked listeners to donate to help keep our public-radio podcast going strong. This episode is called "How to Raise Money Without Killing a Kitten." (You can download/subscribe at iTunes, get the RSS feed, or listen via the media player in the post. You can also read the transcript; it includes credits for the music you'll hear in the episode.)
In this podcast you'll hear the economist John List give us the gospel of fundraising — what works, what doesn't, and why. List and economist Uri Gneezy write about the science of charitable giving in their book The Why Axis: Hidden Motives and the Undiscovered Economics of Everyday Life.
List gives us a lot of ideas about how to successfully raise money — like using good old-fashioned guilt, for instance. Or that attaching a lottery or raffle to your fund-raising effort is a good idea. But our favorite way that List says you can raise more money: get an attractive person, preferably a woman, to do the asking for you. So we try out a few of List's tips. We dare you not to donate once you hear from certified-attractive people like Savannah Saunders, a Swarthmore student, Wilhelmina model, and ardent Freakonomics fan. You'll also hear Adrian Grenier, the actor and director best known for playing Vincent Chase on Entourage, turn on his good-looking mojo for the Freakonomics cause.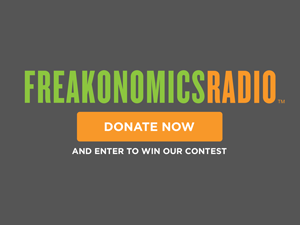 And if you are immune to the beauty effect, we have some swag to entice you: a Freakonomics Radio t-shirt, a mug, signed books, and — best of all — a chance to win a trip to New York City to hang out with Stephen Dubner and the whole Freakonomics Radio crew.  Just click the button on this page that says "donate now" and you'll be entered to win. You don't even have to make a donation to enter the contest, but of course we hope you will. If you do win, you'll have lunch with Stephen Dubner, visit us at our home station, WNYC, and see how we put together our podcast. We're excited to meet one lucky listener very soon! Oh, and one last thing: John List told us to tell you guys that if you don't donate, the show might go away. But, as Dubner says:
DUBNER: I'm uncomfortable saying that. That feels like give us money or we'll kill your kitten.
So we'll say it here: Donate today and nobody hurts the kitten.*
*It's been one year and still, no kittens were harmed or will be harmed in the making of this radio show.