How to Think Like a Freak — and Other FREAK-quently Asked Questions (Ep. 166)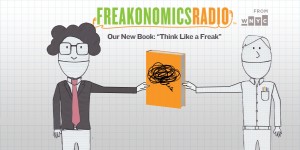 Our latest podcast is called "How to Think Like a Freak — and Other FREAK-quently Asked Questions."  (You can subscribe to the podcast at  iTunes, get the RSS feed, or listen via the media player above. You can also read the transcript, which includes credits for the music you'll hear in the episode.) In it, we talk about the imminent release of our new book, Think Like a Freak, and field reader questions about prestige, university life, and (yum yum) bacon. Along the way, we touch upon Michelangelo, George Bernard Shaw, and Steve Levitt's deep disdain of book tours:
LEVITT: I don't know why but there's something about book tours, which undo me. I just become dark.
What kind of questions do we field?
Alicia Robison writes:
"I'm sure you have noticed the new society fetish with bacon. … My question is what are the social/economic/health benefits of all this bacon weirdness?"
Adil Khimani asks:
"What if you guys had a section on your website to get hold of you, and had perhaps three levels of priority. … VIP questions can be guaranteed to be answered on air, unless extremely inappropriate, but also carry a $10 charge to submit. A second tier of question that may get answered would cost $5, and lastly you could have the good old free model that will receive the least of your attention."
And Meredith Summers asks:
"I wonder if it would be at all possible to quantify in financial terms Steven Levitt's contribution to the University of Chicago?"
If you want to check out some other FAQ episodes of Freakonomics Radio, you can find them here, here, here, and here. And if you want to catch us on the upcoming book tour that Levitt dreads — we'll be in New York, Washington, Chicago, San Francisco, Los Angeles, Seattle, Wales, and London — the details can be found here. Come say hello!