What Do King Solomon and David Lee Roth Have in Common? (Ep. 174)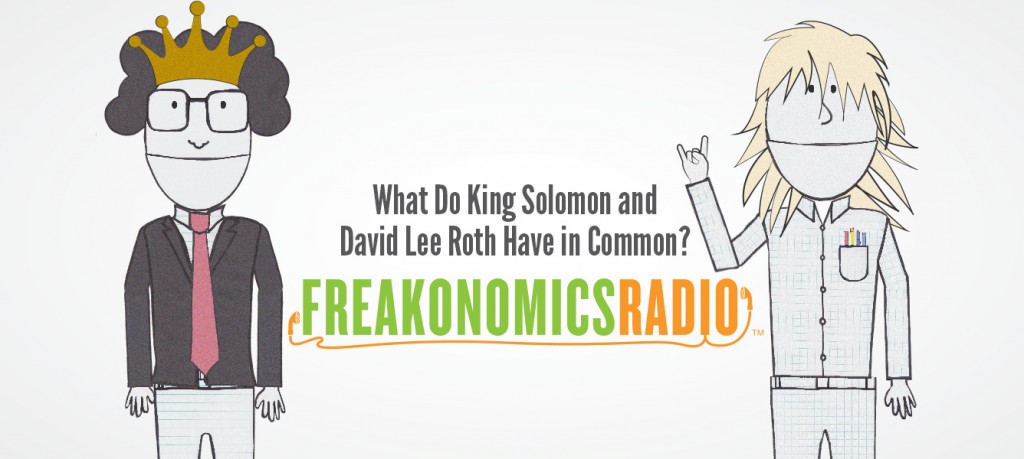 This week's episode is called "What Do King Solomon and David Lee Roth Have in Common?" (You can subscribe to the podcast at iTunes, get the RSS feed, or listen via the media player above. You can also read the transcript, which includes credits for the music you'll hear in the episode.)
The gist? It isn't easy to separate the guilty from the innocent — but a clever bit of game theory can help. The goal, as Steve Levitt puts it, is "to get the bad guys to come forward and tell you who they are." It's a trick that Levitt and Stephen Dubner, in their new book Think Like a Freak
, call "teaching your garden to weed itself."
In the episode you'll hear what David Lee Roth and King Solomon have in common. Among the possibilities:
They were both Jewish.
They both got a lot of girls.
They both wrote the lyrics to a number-one pop song.
They both dabbled in game theory.
You'll also hear the economist Peter Leeson — whose latest book is Anarchy Unbound
 — describe how medieval ordeals worked, and why it is that the majority of criminal suspects who were forced to grab a hot bar of iron were somehow not burned.
And Levitt and Dubner talk about a trap that they laid back when SuperFreakonomics
was published. Here's part of their exchange:
DUBNER: [Levitt, do] you remember that story we wrote in SuperFreakonomics about why terrorists should buy life insurance?

LEVITT: Yeah, that was one of my favorite things of all time.

DUBNER: But we didn't tell the whole story, did we?

LEVITT: No we didn't, we lied, and that was what was so fun about it.
Calm down! They lied in the service of a greater good – to catch terrorists. You'll hear what they did. Now, admittedly, catching terrorists and sorting the innocent from the guilty is probably not something you have to do regularly — so the last story in this episode may be most relevant to you. It's about why Nigerian e-mail scammers prominently say they are from Nigeria when most sensible people know the ruse. I can promise: when this episode is over, you'll never look at spam e-mail, or at David Lee Roth, the same way ever again.