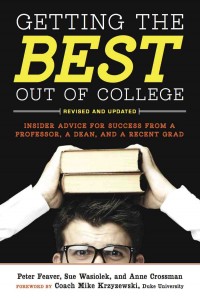 We recently solicited your questions for Peter D. Feaver, Sue Wasiolek, and Anne Crossman, the authors of Getting the Best Out of College. Your questions ran the gamut and so do their replies. Thanks to all for participating. And feel free to check out our podcast on the value of a college education, "Freakonomics Goes to College" (Part 1 here, Part 2 here, and together as an hour-long special). 
Q. Michael Pollan summed up his philosophy of nutrition in seven words: "Eat food, not too much, mostly plants." Do you have similarly pithy advice for students trying to maximize their college experience? Don't feel limited to seven words – I'm just looking for something aphoristic. -Glen Davis
A. Your choices in college matter more than your choices of college, so choose wisely.