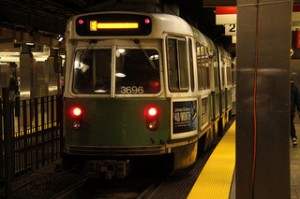 On America's first subway, Boston's Green line, the middle doors stopped opening. When I asked the driver to open the doors, he said that he couldn't: now all boarding and deboarding at the above-ground stops is through the narrow front door by the fare box. Ah, the MBTA: making up for the 23 percent fare hikes on July 1 with improved service!
Me: "The new policy slows the ride for everyone. Now passengers cannot board and pay their fares until all the deboarding passengers have left."
Driver, shrugging: "It's the new policy. I just do what my boss tells me to do. I don't question."
Me: "We could use some questioning."
Driver: "Questioning isn't part of my job. I just wait for my pay day."