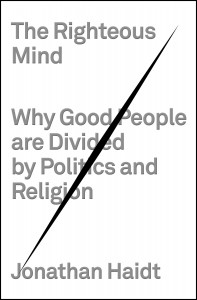 "Morality, by its very nature, makes it hard to study morality," writes the social psychologist Jonathan Haidt. "It binds people together into teams that seek victory, not truth. It closes hearts and minds to opponents even as it makes cooperation and decency possible within groups."
His new book is called The Righteous Mind: Why Good People Are Divided by Politics and Religion
and it is absorbing on so many levels. (It addresses some of the same ideas in a Freakonomics Radio episode called "The Truth Is Out There ... Isn't It?") Here's a Times review; here's one from the Guardian.
I'm pleased to say that Haidt has agreed to take questions on his topic from Freakonomics readers, so ask away in the comments section and as always, we'll post his answers in short order.