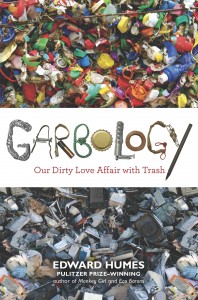 We are quite fond of talking trash, literally: see our "Economics of Trash" podcast, and our "Weird Recycling" episode, and even the "Power of Poop."
The journalist Edward Humes is also fascinated with trash. His new book Garbology: Our Dirty Love Affair with Trash
 is about the 102 tons of garbage the average American produces in a lifetime. Humes writes about what's in our trash, how different communities deal with it, and how we might could think about trash differently: "Waste is the one environmental and economic harm that ordinary working Americans have the power to change — and prosper in the process." 
Humes has agreed to field your trash questions, so ask away in the comments section and, as always, we'll post his answers in short order.