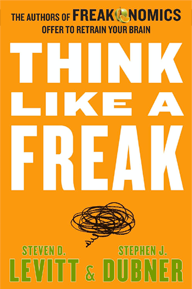 The New York Times-bestselling Freakonomics
changed the way we see the world, exposing the hidden side of just about everything. Then came SuperFreakonomics
, a documentary film, an award-winning podcast, and more.
Now, with Think Like a Freak
, Steven D. Levitt and
Stephen J. Dubner have written their most revolutionary book yet. With their trademark blend of captivating storytelling and unconventional analysis, they take us inside their thought process and teach us all to think a bit more productively, more creatively, more rationally—to think, that is, like a Freak.
Levitt and Dubner offer a blueprint for an entirely new way to solve problems, whether your interest lies in minor lifehacks or major global reforms. As always, no topic is off-limits. They range from business to philanthropy to sports to politics, all with the goal of retraining your brain. Along the way, you'll learn the secrets of a Japanese hot-dog-eating champion, the reason an Australian doctor swallowed a batch of dangerous bacteria, and why Nigerian e-mail scammers make a point of saying they're from Nigeria.
Some of the steps toward thinking like a Freak:
First, put away your moral compass—because it's hard to see a problem clearly if you've already decided what to do about it.
Learn to say "I don't know"—for until you can admit what you don't yet know, it's virtually impossible to learn what you need to.
Think like a child—because you'll come up with better ideas and ask better questions.
Find the root cause of a problem—because attacking the symptoms, as often happens, rarely fixes the underlying issue.
Take a master class in incentives—because for better or worse, incentives rule our world.
Learn to persuade people who don't want to be persuaded—because being right is rarely enough to carry the day.
Learn to appreciate the upside of quitting—because you can't solve tomorrow's problem if you aren't willing to abandon today's dud.
Levitt and Dubner plainly see the world like no one else. Now you can too. Never before have such iconoclastic thinkers been so revealing—and so much fun to read.
REVIEWS
Malcolm Gladwell on Amazon.com:
"Dubner and Levitt's point, in their utterly captivating new book, is that following your curiosity—even to the most heretical and absurd end—makes the world a better place. It is also a lot of fun."
"Think Like a Freak, the latest iteration of the franchise, belongs to a category much older than the one its authors pioneered: it is a self-help manual. There are some good ideas here, expressed with panache. Executives should test new ways of doing business even when this means breaking with established routines. Politicians should not allow moral convictions to blind them to inconvenient facts. All of us should stop doing things we only pretend to enjoy. And when bad decisions make us miserable, we should be ready to quit."
"My favorite parts were the discussion of the Japanese hot dog eater Kobayashi and his training/learning regime, why van Halen had the "no brown M&Ms" clause in its contract, and why Nigeriam spam scammers tell you they are from Nigeria."
"Over nine entertaining chapters they demonstrate how not to fall into hackneyed approaches to solving problems and concretely illustrate how to reframe questions since the wrong question will always bring the wrong answer."
"From 'does marriage make you happy?' to the hardest words to say, this life-changing book offers simple solutions to life's fathomless conundrums."
"The new book is full of common-sense instructions: tackle small problems, not vast ones; identify a problem's root cause, not just the symptoms; don't be too proud to quit. It's illustrated with colourful stories, such as how a slim Japanese man became a world champion hotdog eater; how Chinese schoolchildren's grades were improved not with teaching reforms, but with free eyeglasses; and why David Lee Roth, of Van Halen, and King Solomon were both game theorists."
"The books have sold millions of copies, and the Freakonomics website, movie, radio show and podcast have extended the brand, which is known for challenging conventional wisdom while unearthing 'hidden side of everything.' Now, after years of giving its readers unconventional fish, Think Like a Freak will try to teach them to fish differently, applying Freakonomics principles to their own lives."
"Their new book, Think Like a Freak, expands upon that premise while also offering tips on how to become better explorers ourselves. It starts with recognizing the importance of stories, ideas and questions…Reading a new book by Dubner does for your brain what listening to a great album does for your ears: it makes you excited to be alive and gives you a new way to experience the world."
"Levitt and Dubner may not succeed in teaching you to think smarter. But their book is liberating. Free yourself, they say, from the need to go along with the majority. Or from your biases. Or from the fear of saying, 'I don't know.' Thinking like a Freak means, in some ways, thinking like a child: Never underestimate the value of asking, 'Why?'"
"Their beguiling combination of clever thinking and snappy writing has not only earned them potloads of loot, it has provided them with a reputation for creative problem-solving, such as when to break up with a girlfriend, or how to reorganise Britain's NHS, a thankless task the authors liken to 'drop-kicking one of the Queen's corgis'."
Levitt and Dubner know a bit about tricks: they are the great prestidigitators of popular economics. By aiming at a wide readership, they annoy as many people as they please, and this new book has had some very sniffy reviews. But I loved it. It's full of ideas, wears its cleverness lightly and slips down as easily as an oyster. And much more easily than a bowl of M&Ms with all the brown ones taken out.
You might argue that they are simply rephrasing the obvious, yet for all that, Think Like A Freak is a rollicking read.
"[Levitt and Dubner] continue on their mission to get people to think in new ways in this lively book about decision and persuasion. Building on their first two books, the authors offer advice for dealing with 'minor lifehacks or major global reforms' … Genial storytellers, the authors admit that much of their advice may seem like common sense … but they cite study after study—by psychologists, sociologists, educators and scientists—to show that sometimes common sense is severely underutilized."
FEATURES
BBC Radio 5 Live: Interview with Richard Bacon.
BBC Radio 4 Today: How to Think Like a Freak.
The Globe and Mail: Stephen Dubner and Steven Levitt teach us how to think like a freak.
New York Observer: Stephen J. Dubner Admits He Still Does Not Know Everything — Which Probably Means He's Close.
The Tavis Smiley Show: Steven Levitt and Stephen Dubner – "Think Like a Freak".
KUOW The Record: Thinking Like A Freak, Economically Speaking.
KPCC Take Two: 'Freakonomics' authors explain why it's important to 'Think Like A Freak'.
The Times: Think Like a Freak — How to Think Smarter about Almost Everything.
The Tim Ferriss Show, Episode 7: Stephen Dubner, Co-Author of Freakonomics.
Motley Fool Money Radio Show: Think Like a Freak.
The Dinner Party: Stephen Dubner Offers to Retrain Your Brain.
The James Altucher Show: Ep. 20 Stephen Dubner: How to Think Like a Freak.
WBEZ's Afternoon Shift: Freakonomics author offers to retrain your brain.
Canada AM: How to Think Like a Freak.
New York Magazine: Why It's Better to Think Small Than to Think Big.
The Brian Lehrer Show: How To Think Like A Freak: Say "I Don't Know", How To Think Like A Freak: Think Like A Child, How To Persuade People.
Reddit: Stephen Dubner's "Think Like a Freak" Reddit AmA.
The Takeaway: Learn to 'Think Like a Freak' with Stephen Dubner.
The Guardian: Think Like a Freak extract: joining the dots between hot dogs, Van Halen and David Cameron.
The Wall Street Journal The Saturday Essay: How to Trick the Guilty and Gullible into Revealing Themselves.
Financial Times: 'Freakonomics' co-author Steven Levitt talks data – and dieting.
Parade: Freakonomics Authors: 5 Things to Do Before Making a Big Decision.
Business Insider: 'Freakonomics' Author Steven Levitt Explains How Anyone Can 'Think Like A Freak'.
Forbes: The Upside Of Dropping One Idea For The Next.
Fast Company: The Freakonomics Authors' New Approach to Creative, Productive Thinking.
Digiday: John McDermott interviews Stephen Dubner on how new media isn't so different from old.
Crain's Chicago Business: Q&A with Levitt.
Park City Daily News: 'Think' another gem of a book
AWARDS
Goodreads.com: Best Business Books of 2014
The Times (UK): Books of the year: ideas
Audible.com: Best of 2014: Nonfiction
Amazon.com: 2014 Best Books of the Year: Business & Investing
VIDEOS
Squawk Box Europe: Stock experts like 'monkeys with dart boards'
Squawk Box Europe: UK should charge for health service: Freakonomics authors
Channel 4 News
CNN Your Money: Freakonomics author talks education
Charlie Rose
Yahoo! The Daily Ticker: Unhappy? Quit your job now!
Bloomberg TV Surveillance: Terrorist Incentives Are Very Different
Bloomberg TV Surveillance: The Rise of the Celebrity Economist
Yahoo! The Daily Ticker: How to Think Like a 'Freak'
MSNBC Morning Joe: Think Like a Freak
MSNBC Morning Joe: The value of thinking like a 'Freak'
Bloomberg TV Street Smart: How Big Data Helps to Ask the Right Questions
Bloomberg TV Street Smart: How to "Think Like a Freak"
The Street: How to Use Freakonomics to Win Nathan's Hot Dog Eating Contest
CBS This Morning:"Freakonomics" team on steps to creative solutionsBig Think: Think Like a Freak and Break Barriers
Business Insider: "'Freakonomics' Authors Show How The Fear Of Failure Clouds Decision-Making":
CBS News Sunday Morning: "Meet the Minds Behind Freakonomics":iMedia: Dubner on how Think Like a Freak applies to marketing: