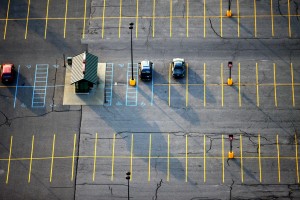 Our latest Freakonomics Radio podcast is called "Parking Is Hell." (You can subscribe at iTunes, get the RSS feed, or listen via the media player above. You can also read the transcript below; it includes credits for the music you'll hear in the episode.) 
The episode begins with Stephen Dubner talking to parking guru Donald Shoup, a professor of urban planning at UCLA and author of the landmark book The High Cost of Free Parking. In a famous Times op-ed, Shoup argued that as much as one-third of urban congestion is caused by people cruising for curb parking. But, as Shoup tells Dubner, there ain't no such thing as a free parking spot:
SHOUP: Everybody likes free parking, including me, probably you. But just because the driver doesn't pay for it doesn't mean that the cost goes away. If you don't pay for parking your car, somebody else has to pay for it. And that somebody is everybody. We pay for free parking in the prices of the goods we buy at places where the parking is free. And we pay for parking as residents when we get free parking with our housing. We pay for it as taxpayers. Increasingly, I think we're paying for it in terms of the environmental harm that it causes.
Shoup's recommendations have inspired a series of reforms across the country, most notably an ongoing experiment in San Francisco called SFPark. The project essentially establishes a dynamic market for street parking by measuring average occupancy on each block and then setting prices according to demand.