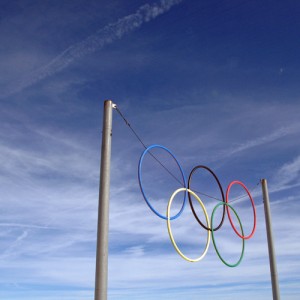 Whether the Olympics are around the corner (as they are now) or a few years away, there are always Olympic-themed events going on. Recently, a group called Ravelry sponsored a knitting competition called the "Ravelympics." [Related post on Ravelry: "Is There an Elitist Oligarchy in the Underworld of Knitters?"] Whereas most people probably imagined a bunch of grandmothers knitting mufflers, the U.S. Olympic Committee saw a conspiracy to infringe its trademark in the word "Olympics."
After enduring a lot of criticism, the USOC backed off the knitters. But what the USOC tried to do isn't unusual.
In fact, just recently luxury goods purveyor Louis Vuitton threatened to sue Penn law school over a poster for an academic conference on the law of fashion that featured an artist's funny take on the Louis Vuitton logo (with the famous "LV" replaced with a "TM"). Louis Vuitton didn't see the joke, and threatened the law school (which, being a law school, knew enough not to be scared).