Journalism wrapped in a game-show package.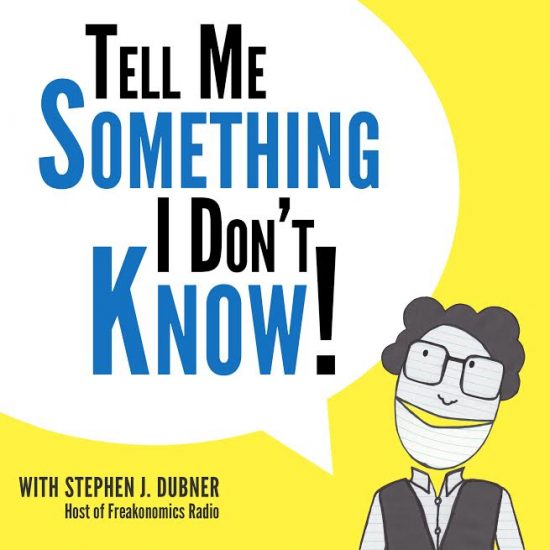 Tell Me Something I Don't Know is a new live event and podcast from host Stephen J. Dubner, author of the Freakonomics books and creator of Freakonomics Radio. It debuted in November and immediately went to the top of the iTunes chart.
Audience contestants are invited on stage to tell us something we don't know. Three celebrity panelists — a mix of leaders in science, politics, sports, and comedy — grill the contestants and by the end we've all gotten a bit smarter. Each episode has a new topic, new panelists, and new contestants. There's also a real-time human fact-checker to filter out the bull. Think of the most crackling dinner-party conversation you've ever heard.
Buy tickets to our upcoming tapings:
Washington, D.C. — March 6 & 7 at Sixth & I, produced in association with WAMU
Boston — March 14-16 at The Wilbur Theater, produced in association with WBUR
New York — March 21 & 22 at NYU Skirball Center
Chicago — April 5 & 6 at Thalia Hall, produced in association with WBEZ
We are looking for smart people to get up on stage and present a fascinating fact. It might be an unheralded technological breakthrough; a new line of important research; a cultural quirk; a historical wrinkle; or perhaps just a great, unasked question. All we ask is that it's interesting (at least to you), worth knowing (at least a little bit), and — well, true (there is always a fact-checker on hand). Also: there will be prizes!
Selected presenters will be invited to our tapings, which will be turned into podcasts. Submit your IDK here.
And if you'd like to be part of our live audience, here is where you can get tickets to see the show. Also, follow TMSIDK on Twitter, Facebook and Instagram. Listen and subscribe here.
Tell Me Something I Don't Know is produced in association with Stitcher.
Advertise
If you are interested in advertising on our show, click here.