Should High-Frequency Trading Be Banned? One Nobel Winner Thinks So
The IMF recently held a conference entitled Macro and Growth Policies in the Wake of the Crisis. Here's a video summary from Michael Spence, former Stanford School of Business dean and winner of the 2001 Nobel Memorial Prize in Economic Sciences. It includes Spence's thoughts about inflation and the coming divergence between growth and employment in the developed world:

Of the four post-conference points that Spence lays out, perhaps the most controversial is his opinion that high-frequency trading should be banned. Not curbed. Not reined in. But banned.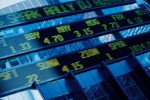 This caps a busy month for HFT news. The algorithmic method of computer trading makes up as much as 70 percent of all equity volume in the U.S. Last spring's Flash Crash, sparked debate over the role the practice played in the event, when the Dow Jones dropped more than 600 points in five minutes, only to gain it back within the next 20 minutes. On March 1, a Commodity Futures Trading Commission panel recommended that trading firms implement a mandatory set of internal controls, including "limits on quantity, price collars and a 'kill button.'" This after the same panel admitted that any externally enforced rules would be "virtually impossible" to enforce.
The next day, March 2, incoming chairman of the EU's securities watchdog, the European Securities and Markets Authority (ESMA), promised a deep review of the practice. And as evidence of the degree to which banks value their high-frequency source codes, and their vigor to protect them, two cases of attempted code theft have resulted in recent prison sentences: on March 18, Sergey Aleynikov was sentenced to 8 years in prison. The former Goldman Sachs computer programmer came to attention in July, 2009, when he was arrested and accused of stealing Goldman's secret algorithmic trading code. From the get-go, Goldman went after Aleynikov as hard as possible: FBI stakeouts, a public arrest as he deboarded a plane in Newark. Deemed a flight risk due to his dual Russian/U.S citizenship, he's been in jail since last month.
And in France, a former Société Générale SA trader was sentenced to 3 years in prison for stealing the French bank's code. As Spence might see it, one way to better protect high-frequency trading codes is just to ban them. But with $7 billion in profits coursing through fiber-optic cables at something approaching the speed of light, is that even possible?