The Answer to My Golf-Swing Quiz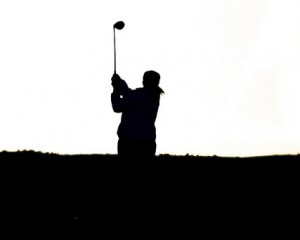 Photo: MacJewell
Last week, I recounted the story of my golf pro Pat Goss, upon first meeting me, comparing my swing to another player. I invited blog readers to guess the answer.
I never would have gotten the answer to the quiz myself.
At the time, I remember hoping the answer wasn't Charles Barkley. I highly doubted he was going to compare me to a professional golfer, but I was hopeful.
When he told me that I swung exactly like Danny Noonan from Caddyshack, he didn't mean it as a compliment, but I took it as one.
If you want to see Danny Noonan swing (I'm not sure why you would), then skip ahead 2 minutes and 43 seconds into this Caddyshack clip. If you want to see my swing, then you will have to invite me to play with you (preferably at Augusta National if you happen to be a member).
The wisdom of our blog readers never ceases to amaze me. This was an extremely difficult quiz. Nonetheless, within an hour of the quiz being posted, reader DonBoy was on the right track, answering "Some character from Caddyshack. (I don't know much about golf, but I do speak blog.)"
I'm not going to give DonBoy the prize for that answer, but let me say publicly that DonBoy's answer exudes a combination of intuitive genius and confidence that make me think DonBoy is going to do big things in his life.
Just a few minutes later, blog reader Seth delivered the correct answer. I'm not sure whether Seth came to his answer independently, or whether DonBoy's hint triggered the guess. Either way, Seth is taking home the Freakonomics swag. Congratulations, Seth!