Shop 'Til You Drop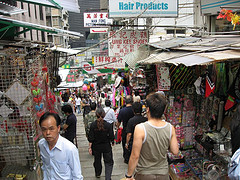 Photo: mikeleeorg
A new study surveying elderly Taiwanese men and women shows that senior citizens who engage in daily shopping are likely to live longer than their counterparts:
Elderly who shopped every day have 27% less risk of death than the least frequent shoppers. Men benefited more from everyday shopping than women with decreased hazard ratio of 28% versus 23% compared to the least….Shopping behavior favorably predicts survival.
The study selected participants based on demographics, socioeconomic status, health, shopping frequencies, physical and cognitive functions. The data was then linked to death records, relating shopping frequency to mortality data. Two benefits for long(er) life as a result of engaging in shopping are physical activity and social interaction, both big contributors to longevity.