Are Bad Storms Good Long-Term News for Insurance Companies?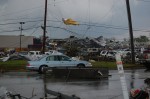 Photo: Donald Lee Pardue
According to the National Weather Service's Storm Prediction Center in Norman, Okla., there have been 1,151 tornadoes reported (though not confirmed) so far this year. By comparison, there were 1,282 tornadoes during all of last year, and a total of 1,156 in 2009. This is resulting in billions of dollars in damage claims across much of the South and Midwest. According to EQECAT, which provides disaster and risk models to insurance firms, weather-related losses could cost insurers upwards of $10 billion in the U.S. this year, up from an average of between $2 and $4 billion per year.
But while the short-term impact will obviously be difficult as insurance companies cover record losses, the recent rise in weather-related disasters could end up being good for their stock prices. As CNBC's Mary Thompson points out, insurance stocks sometimes experience nice rallies following periods of natural disasters as they're able to pass costs onto customers through higher premiums.
Sandler O'Neill analyst Paul Newsome thinks the increase in storm frequency and severity will force insurers to change their catastrophic loss models for determining premiums to charge. Typically catastrophe losses are modeled as 3 percent to 4 percent of premiums collected; he sees this rising to 5 percent to 6 percent.
There's already evidence of premiums going up in some hard-hit states. From the Insurance Journal:
More than 400 Oklahoma schools have received notices of expected insurance rate increases averaging 19.5 percent.
The notice from the Oklahoma Schools Insurance Group, which provides various types of coverage to 440 of Oklahoma's 526 school districts, comes after schools were told that state funding for public education will be cut by 4.1 percent in the next fiscal year.