Baseball's Rainy Season
Major League Baseball is off to one of its wettest starts ever. The league came into this week having already postponed 26 games, which is 6 more than were washed out all of last season. According to Dailybaseballdata.com:
From 2006-2009, each season had from 33-38 rainouts. But 26 through mid-May puts us on a pace to wash out 100 games this year!
Today's weather forecast and schedule looks to spell more rainouts.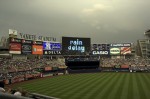 Photo: happyskrappy
Spring is, of course, the wettest time of the year for baseball. Things usually dry out by summer, so you can't assume that the current pace of rainouts will hold up. Though it has indeed been a season of extreme weather thus far, with tornadoes and record flooding across the South and Midwest, some have chosen to blame Commissioner Bud Selig's decision to start the season early this year in order to avoid a World Series that stretches into November. But as Al Yellon at Baseball Nation points out:
Try as you might, you can't blame Bud Selig for that. Further, you can't blame the earlier start to the schedule, either; of the 25 postponements to date, only six of them were before April 15, a date that many claim should be the start of the baseball season. Ten rainouts happened between April 16-30 and there have been nine in the first half of May, when, presumably, weather should be improving in the northeastern quadrant of North America. The weather has given equal opportunity; 15 different teams have had games called off in their ballparks. PNC Park in Pittsburgh and Chicago's Wrigley Field are the "leaders" in this dubious category, with three each.