Comedian Turns Pledge-a-Picket Tactic on Westboro Baptist Church Protesters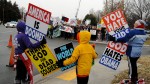 Photo: Jordan Jez Photography.
Back in 2005, Levitt wrote about Planned Parenthood's clever strategy in response to people picketing one of its clinics in Philadelphia. The tactic, known as Pledge-a-Picket, worked like this: for every protester that picketed the clinic, people pledged to donate a certain amount of money (minimum 10 cents). The event raised a reported $40,000, and is now a part of the clinic's annual calendar.
At the time, Levitt predicted that abortion clinics around the country would soon adopt the approach. It turns out, so has comedian Lisa Lampenelli. The Daily What reports:
Comedy's Lovable Queen of Mean Lisa Lampanelli made good on her promise to donate $1,000 to the Gay Men's Health Crisis for every Westboro Baptist Church member who showed up to protest her recent stand-up show in Topeka, taking to Twitter after the show to say "Thanks to these a-holes, $44,000 will be donated to the GMHC!!!"
She later bumped it up by $6k, tweeting "WBC inbreds counted 48 protesters, so I won't quibble. I'll make it an even $50,000!!!"
Best part? The donation will be made in the hate group's name. Thanks WBC!