Europe's Stolen Goods Problem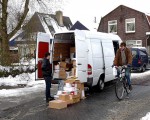 Photo: zoetnet
Stealing a truckload of goods in Sweden is apparently as easy as waiting for the driver to go on his lunch break. Each year, billions of euros worth of goods are stolen while in transit across Europe, but no one seems to be doing much about it. Dr Luca Urciuoli, a researcher in engineering logistics at Lund University has studied the problem and finds a transportation system ripe for criminal exploitation. From Science Daily:
Luca Urciuoli's research shows that many haulage companies do not make any security investments at all, even though it is fairly easy to find security measures such as theft-proof doors or windows, truck alarms, track and trace systems and mechanical locks on the market.
"In Sweden, criminals often have time to attack cargo when the driver leaves the lorry for lunch, or while he is sleeping in the cab or delivering the goods to the customer," says Luca Urciuoli, who adds that cargo theft is a growing problem in Europe.
Luca Urciuoli's explanation as to why Swedish transport companies are doing so little to enhance security is that they often do not find it worthwhile to tackle such a problem. Today, companies rarely bother to report thefts to the police, arguing that "they won't do anything anyway…." Neither are they reporting the problem to the insurance companies because this would lead to their premiums and excesses being raised.
This lack of reporting and statistics collection means the problem is underestimated. Consequently, relevant stakeholders — police, customs, courts of justice, insurance companies, certification bodies, security companies, transport companies, shippers and cargo owners — put less effort into fighting cargo crime than they should.