Global Poverty Shifting Toward Middle Income, Failed States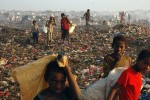 Photo: Swiatoslaw Wojtkowiak
A new report from The Brookings Institution examining global poverty rates since 2005 notes two primary trends:  poor people are increasingly found in middle-income countries and in fragile states.
The report notes the obvious success of the first trend:
Over the past decade, the number of countries classified as low-income has fallen by two fifths, from 66 to 40, while the number of middle-income countries has ballooned to over 100. This means 26 poor countries have grown sufficiently rich to surpass the middle-income threshold. Among those countries that have recently made the leap into middle-income status are a group of countries – India, Nigeria and Pakistan – containing large populations of poor people. It is their "graduation" which has brought about the apparent shift in poverty from the low-income to middle-income country category.
And the troubling failure of the other:
Unlike the exodus from the low-income country grouping, too few countries are succeeding at breaking out of fragile status. According to at least one classification, the number of fragile states across the world has risen from 28 in 2006 to 37 today. Furthermore, in a number of critical countries, the degree of fragility is increasing. Countries that remain locked in fragility are unsurprisingly not recording the same rates of poverty reduction achieved by stable countries. Rapid poverty reduction is directly undermined by the failure of the state to perform its core functions.
Check out this simulated graph of populations shifting over time, courtesy of the Brookings Institution:

(HT: Chris Blattman)