How Predictable Are Nobel Prizes in Economics?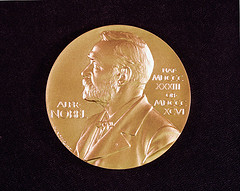 Photo: Canada Science and Technology Museum
I was going through a pile of old papers in my office when I found a sheet entitled "Blackboard at the University of Chicago October 5, 2005: Future Nobel Laureates." I have no idea who brainstormed the list that was written up on the board, or why. I can't even remember whether I took part in the exercise, although seeing how good the predictions have turned out, I'm going to assert (rightly or wrongly) that I was one of the predictors.
For your entertainment, here is the list of names that were on the board, in their original order:
P. Diamond
D. Diamond
Fama
French
Milgrom
Holmstrom
Hart
Sargent
Hall
Barro
L. Hansen
G. Grossman
Krugman
Helpman
P. Romer
Phelps
S. Grossman
Newey
Obsfeldt
Rogoff
Feldstein
Kreps
Posner
Sutton
Williamson
K. Murphy
Rabin
Acemoglu
Thaler
Rajan
Wilson
Card
Shleifer
Jorgenson
Pakes
Mortensen
Pissarides
Tirole
Myerson
Bernheim
Goldin
So how have the prognosticators done?  Pretty darn good.
The list contains 41 names, at least seven of whom are too young at this point to reasonably be under consideration. So that leaves 34 names that possibly could have won the prize to date. Since 2005, seven of the twelve Nobel Prize winners were drawn from this list: Edmund Phelps, Roger Myerson, Paul Krugman, Oliver Williamson, Peter Diamond, Dale Mortensen, and Christopher Pissarides. At least a couple of the prize winners would have been very difficult to predict in advance (e.g. Elinor Ostrom, whom I literally had never heard of when she won the Nobel). There is no question that this list has performed far better than any list I would have produced at the time.
If the list-makers wrote up their picks, starting with those they thought most likely to win at the top, they didn't do a very good job in that dimension. While the very first name on the list was a winner, the bottom of the list has been the best place to be, with three of the last six names garnering a prize. By that criterion, put your future Nobel bets on Jean Tirole, Doug Bernheim, and Claudia Goldin (the only woman on the list).