This Year's Kentucky Derby Picks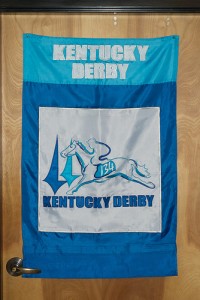 Photo: Peter Batty
Dubner and I have been thinking a lot these days about pundits who make predictions. The incentives surrounding predictions are completely skewed. If I make a wild prediction, and it just happens to come true, I have strong incentives to constantly remind the world about how my prediction came true. If, as is much more often the case, the prediction is wrong, it is likely to be quickly forgotten because there is typically no one else who cares enough about my failed prediction to go to the time and effort to continually remind others that I was wrong. Thus, even if I am rarely correct, it makes sense to make a lot of crazy predictions.
Which leads me, of course, to the Kentucky Derby. I've made Kentucky Derby predictions every year since we started the blog. Rarely have I been correct. But I did, many years ago, publicly and correctly predict that a 50-1 shot would win the race. I cannot tell you how many times I have mentioned that to people. I have been much quieter about the time that the horse I predicted would finish dead last actually won the race, although in its own way that is also quite a feat.
Despite my mediocre record, demand for my picks remains strong. Well, actually, not too strong. Exactly one person emailed me this year asking me who I like in the Kentucky Derby this year. For that gentleman, here are my prognostications. My model identifies four horses (out of twenty) that look like good bets this year. Mucho Macho Man is my number one pick, followed by Brilliant Speed, ArchArchArch, and Comma to the Top. Except for Brilliant Speed, who will be a huge long shot, the other three should have odds of around 15-1 or 20-1.
I don't like the two favorites, Uncle Mo and Dialed In.
My pick to finish dead last is Twice the Appeal.