Why Can't You Buy a Big Bottle of Headache Pills in England?
Last time I was in London I had a headache, and went to the nearest Boots to buy something for it.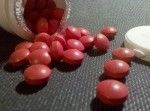 Photo: vvvracer
In U.S. drugstores, I'm accustomed to finding half an aisle devoted to headache pills, with bottles ranging from small to very large — at least 200 pills in them. So that's what I went looking for in Boots, but no such bottle was to be found. The only options were cardboard packets containing maybe 20 pills, with each pill in its own blister packet. (The pills were also larger than U.S. pills.) Hmm, I thought. I guess Boots finds it can charge a lot for a small amount of headache medicine since most people, when they have a headache, aren't very price-conscious.
But I recently learned the real reason for this phenomenon while interviewing David Lester, a psychologist at the Richard Stockton College of New Jersey who is the dean of suicide (and death) research. (We are producing an hour-long Freakonomics Radio special on suicide.) We were discussing the efficacy of SSRI's on treating depression (and fighting suicide) when he explained why it's hard to find a big bottle of headache pills in England:
LESTER: And although there was a lot of publicity in recent years about the dangers of the SSRI, the serotonin reuptake inhibitors, like Paxil, and Zoloft, and Prozac, the death rate of people taking those medications is much less than people taking the older antidepressants. They're much safer. There are fewer suicides, and there are fewer accidental overdoses. There still is some concern about adolescents, but on the whole they're the much safer ones. In England and Europe, Tylenol is sold under the name Paracetamol, and that's used for huge numbers of overdoses, which on the whole aren't lethal but leave the people with kidney damage and often of dialysis for the rest of their lives.
DUBNER: That's interesting, yeah. I was in London recently and had a headache, and went to buy some acetaminophen or ibuprofen and noticed that in a drugstore I couldn't seem to find anything larger than a container of maybe twenty or twenty-five pills in those foil sheets where you have to punch one out.
LESTER: They started doing that about five years ago, and they restrict the numbers, and they put them in plastic blisters so you have to tear them out. And again, you'd think all I have to do is go to six drugstores, you know, buy packets in each of them, all I have to do is just tear them out. But it has cut down the number of overdoses. It's also cut down the number of serious overdoses that have led to kidney damage. Now, very few people died of an acetaminophen overdose. So it's been hard to document that it cut the number of deaths, but certainly the number of attempts. The overdoses with it have been cut dramatically. And they did think about other things. You know, they did think about putting bitter tasting substances in it, or a substance that would make you vomit if you took too many. But they decided that was perhaps…That would interfere with the appropriate use of an analgesic such as Tylenol or aspirin. You know, the people who really needed them for headache would find it unpleasant to take them. … It's been remarkable, a success, that.
DUBNER: Now, let me ask you…
LESTER: I'm glad you had that experience. It shows that it's, that the drugstores are actually applying it, I mean they are following the rules.
It is of course a larger question as to how valuable such a rule is. But I'm happy to at least have an explanation.