Dear Yankees: I Am a Bad-Luck Charm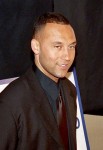 Photo: nick step
Ever since writing a post last fall asking what Derek Jeter is worth to the Yankees, I've been sent a number of requests asking how to best forecast the date when Jeter would get his 3,000th hit so as to be present for that special game.
Sorry, but I put very little thought into this problem. Why? Mostly out of self-interest: for me, this problem wasn't much of a problem. I live in New York so if I wanted to try to see that game, I'd just wait until Jeter got fairly close and then buy tickets for an upcoming game. I had no travel or other issues to work around.
So on Sunday night, after Jeter got his 2,993rd hit, I looked at the Yankees' schedule and figured my best bet would be the day game this Thursday against the Texas Rangers. It would be reasonable to expect that Jeter could get six hits in the intervening three games, putting him at the brink of 3,000; it would be the last game of the Yankees' homestand; and I like bringing my kids to day games. So I took the plunge, paying way too much for a chance to witness history.
On Monday, Jeter got hurt. Went on the disabled list for the first time since 2005. Apparently I am the worst kind of bad-luck charm. I'd like to apologize to Jeter, the Yankees, and all the other fans who hoped to see him hit his 3,000th on this homestand. All I can say is that I plan to take my son to Fenway for a game this summer, and I'll do my best to carry my bad-luck mojo up to Boston.