Will the Cashless Revolution Wipe Out Panhandling?
A reader named John Neumann writes:
Guys, I had a thought today as I was walking to work in the sweltering D.C. morning heat: As the U.S. has increasingly become a cashless society with the rise of debit- and credit-card use, has there been a decrease in panhandling, busking, and homelessness? Obviously, fewer people carrying cash or change means panhandlers, buskers, and the homeless will have fewer and fewer people giving them money on the street. Would busking and panhandling become extinct if we do eventually become a completely cashless society? Is that already happening?
Great questions, John!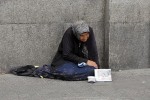 Photo: FaceMePLS
I don't know the answers, but I might now seek them out. If we do ever get truly cashless, presumably you could transfer money from your digital wallet to a panhandler's digital wallet. Might it be hard for a panhandler in possession of a digital wallet to appear needy? Probably not: if they are ubiquitous, the cost of a digital wallet itself would likely be near (or even below?) zero.
John's questions raise two other thoughts:
+ I wonder if the appeal of going cashless might wane in light of so much high-profile financial hacking going on.
+ If/as we do get more cashless, what are the other unseen ramifications? Personally, I'd be happy to do away with the stuff. It's dirty, inefficient, and produces a lot of troublesome by-products.