Which City has the Most Dis-Honest Tea Drinkers?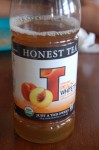 Photo: snowpea&bokchoi
According to an experiment by Honest Tea, it's L.A.
The company has placed unattended racks of its cold bottled tea on street corners in a handful of cities. A sign asks people to pay $1 per bottle, a heavy discount already. Viewers then "watched people wrestle with their conscience." Hidden cameras live-stream the action here.
So far, the citizens of Seattle are coming out as the most honest, with 97% of people paying. Atlanta, Boston, Dallas and Cincinnati are in second with 96%. L.A. is last with 87% — they were actually at 90% earlier today, but that fell as the day went on, and the temperature went up. Here are yesterday's high temperatures for the handful of cities, in order of payment rates:
Seattle: 67° F
Atlanta: 95° F
Boston: 86° F
Dallas: 101° F
Cincinnati: 100° F
Washington DC: 94° F
Philadelphia: 92° F
San Francisco: 74° F
Chicago: 85° F
Miami: 92° F
New York: 95° F
Los Angeles: 92° F
By that measure, Cincinnati and Dallas, where the temperature was over 100° F, look even better than say, San Francisco, where it was a cool 74° F. Also, should we be less impressed with Seattle since it was only 67° F and raining, and people were probably less thirsty? It would be worth doing this again when we weren't in the middle of a summer heat wave, to see if payment rates go up as temperatures go down.
UPDATE: It appears that by Wednesday morning, Chicago had vaulted into the lead with a 99% payment rate, while New York sunk below L.A. for last place, with an 86% payment rate.
Here's the company's promo video of the experiment:
[HT: Robert Reinheimer]