An Apparent Non-Money Pricing Anomaly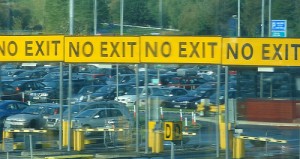 Photo: sidewalk flying
The City of Austin offers airport parking in three tiers, from garage ($20/day), to close-in surface ($10/day), to distant surface ($7/day).  Frequent parkers accumulate points entitling them to free parking days.
The incentives for redeeming the points are bizarre:
Garage                     2500 points
Close In                    2500 points
Long Term                 2500 points
The "price" of a free parking day is the same for the very desirable garage, where I'd never park if I have to pay $$, and for the close-in parking (where I park for $$ if staying fewer than 5 days) as well as for the long-term (where I park only if staying more than 4 days).  Seeing this, we will redeem our 10,000 points for four days in the garage—parking for "free" anywhere else makes no sense. Now if the airlines would only charge the same number of frequent-flyer miles for a trip to Australia as they do for a trip to New York, I would be even better off!