ESPN's New QB Rating System: Who Benefits?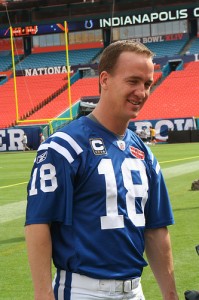 Photo: IAN RANSLEY DESIGN + ILLUSTRATION
This season, ESPN has decided to challenge the NFL and roll out its own system for rating the play of quarterbacks. Its Total Quarterback Rating (QBR) is meant to be an improvement on the NFL's official quarterback passer rating system, which was designed in the early 1970s and grades QB's on four basic metrics: completion percentage, passing yards, touchdowns and interceptions.
The idea behind the QBR is to offer a more nuanced approach that teases out how a quarterback contributes to the success (or failure) of a particular play, and ultimately how he impacts the outcome of a game. For example, under the passer rating system, a ten-yard throw that a receiver turns into a 50-yard touchdown, rewards the quarterback exactly the same had he thrown the ball 50 yards into the endzone for a touchdown. The new system differentiates the two by taking into account the run after the catch, a familiar stat known as RAC to fantasy football players. The QBR also accounts for dropped passes, QB rushing yards, avoiding sacks, giving up fumbles, and something called a Clutch Index — which gives extra weight to plays when the game is on the line.
ESPN has crunched the numbers to determine who, under the new QBR system, were the top performers from 2008 to 2010. While QBR does take into consideration quarterback rushing yards, consummate pocket passers Peyton Manning, Drew Brees and Tom Brady (not to mention statue-like Chad Pennington) still come out on top in the new system. One early casualty? Bears quarterback (and noted gunslinger) Jay Cutler looks a lot less effective under QBR.