New York City Media's Hurricane Overkill
By last Friday, New York City was in full-on hurricane panic mode. Public transportation was scheduled for a Saturday shut down, stores were selling out of batteries and flashlights, windows were being taped, sandbags stacked; three-hundred and seventy thousand people were evacuated. This was going to be bad, the local media kept telling us. Really, really bad. Even the number-crunching, data-driven Nate Silver got in on the action, posting an extensive piece on his fivethirtyeight blog that if Hurricane Irene got close enough to New York City, it could be the costliest natural disaster ever. And by Friday, it was heading straight for the Big Apple.
By midnight on Saturday, things (in the words of NBC anchor Brian Williams) were "getting a bit sporty" in NYC. Wind was gusting, rain was coming sideways. The streets were empty, save for dozens of intrepid local TV news reporters deployed throughout the city, standing ready to report on the impending damage. Which, remember, was going to be bad.
The center of Irene hit New York around 9am Sunday. Winds reached 65 mph, the strongest in 25 years. By 10 am, the worst was over. No hurricane-shattered skyscraper windows, no preemptive power outages, no real flooding to speak of. The general tone among New Yorkers Sunday morning was, "That's it?" But to watch the local TV news on Sunday, the storm had been epic. Rather than call in their battalion of reporters stationed around the area, the NYC TV news media kept reporting. All day.
By noon, it seemed they had the story covered. There was flooding in some areas. Parts of New Jersey and Connecticut were without power. There were a few inches of standing water in lower Manhattan. (A friend who lives down there wrote that he'd just walked from Battery Park to South Street Seaport, and the only thing he'd seen was a dead rat.) And yet, the media kept reporting as if the damage was catastrophic. All three New York City network affiliates preempted their scheduled programming to bring all-day coverage of the storm's aftermath. By mid-afternoon, reporters had resorted to pointing out sticks and trash in storm drains as evidence of debris. They didn't stop until they broke for national news at 6:30. This struck me as absurd. Almost as absurd as Al Roker tethering himself to a bench on a pier in Long Island.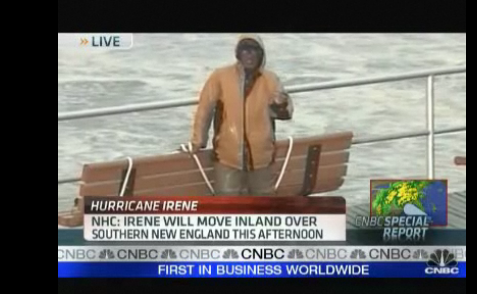 Sadly, parts of the country were devastated by Hurricane Irene. Coastal North Carolina was ravaged. There's historic flooding going on in much of New England. Some 3 million people are without power on the East Coast. Total damage nationwide is estimated to be about $10 billion, nowhere near what people had feared, and hardly any of it in NYC. After all the flak he took about not being prepared for the blizzard last winter, Mayor Michael Bloomberg rightly erred on the side of caution this time. Better safe than sorry.
But here's where I blame the media. Rather than admitting on Sunday that the storm had simply not been so bad, the New York City media was way too eager to join in on the fray, don its rain jacket, and get its disaster yahs-yahs out. While there is clearly a danger in under-estimating the risk of events, there are also negative consequences in trumping up the damages of an event that ultimately, wasn't all that damaging. To me, Sunday's all-day reporting blitz was classic overkill, and ultimately undermines the local TV media's credibility to be able to tell me when something matters, and when it doesn't.