Was Steve Jobs' Retirement Already Priced into Apple Stock?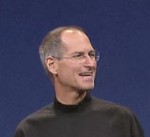 Photo: Danny Novo
When news broke last evening that Steve Jobs was stepping down as Apple CEO, shares of the company fell by more than 5% in after hours trading. By the opening bell this morning, they'd recovered half of those losses. And during the first hour of trading, shares of Apple were only down between 1.1% and 1.6%.
Compare that to when Jobs announced that he was taking a leave of absence back in January of this year (his third leave since 2004), when shares fell by more than 8%. Within ten days, the stock had regained the lost ground, off news that Apple's revenue grew 70% in the fourth quarter. Back in January 2009, when Jobs left for health reasons, and ultimately a liver transplant, Apple shares dumped more than 10% in the immediate aftermath. Way back in the summer of 2004, when Jobs first announced that he'd had a cancerous tumor removed from his pancreas, the market's reaction was a slow sell-off, but nothing too drastic. Back then shares were trading at only around $16, so there wasn't nearly as much to chew off.
So, the market's now had seven years to get used to the idea of life without Jobs at Apple. And there still seems to be plenty of optimism about the future share price. Check out the odds from Irish bookmaker Paddy Power on where Apple's stock price will end 2011.