Will Rahm Emanuel's Merit-pay System Work Where Others Haven't?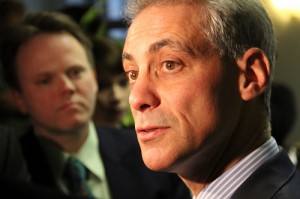 Photo: juggernautco
Last week, Chicago mayor Rahm Emanuel announced that he's rolling out a merit pay program specifically for school principals, using $5 million in donated funds. The plan is particularly bold considering its announcement comes on the heels of quite a bit of evidence, from research to scandals, showing the faults of merit pay.
In March, we wrote about Harvard economist Roland Fryer's study on  New York City's failed merit pay experiment, the Schoolwide Performance Bonus Program, which was shutdown last month. A subsequent RAND report echoes much of Fryer's findings:
…the theory underlying school-based pay-for-performance programs may be flawed. Motivation alone might not be sufficient. Even if the bonus here had inspired teachers to improve, they might have lacked the capacity or resources — such as school leadership, expertise, instructional materials, or time — to bring about improvement.
Vanderbilt released a study last year critical of Nashville's failed flirtations with merit pay, where, unlike New York, bonus money was given directly to individual teachers rather than institutions as a whole. The experiment in Nashville's public school system has offered mixed and generally negative results.
Texas's merit pay program, a combination of school and individual incentives, has had lackluster results. It's recently been hollowed out and will likely face even more cuts in the next few weeks.
And then of course there's the scandal that erupted in Atlanta this summer, where the emphasis on bonus pay for higher test scores resulted in widespread cheating and corruption.
So what makes Emanuel think his program will work any differently in Chicago? For starters, its carrots are directed at the top of the management chain, toward principals rather than teachers or other staff. Bonuses are expected to range from $5,000 and $10,000 per principal.
From the Chicago Sun Times:
…Emanuel said his principal merit pay program will be unique in that it will include training principals to a set of expectations outlined in a new "principal performance contract'' that is still being drafted.
"One of the things that we've learned from the failure of others is you just can't kind of throw performance pay out there [as] a Hail-Mary pass,'' the mayor said at a news conference at Melody School in West Garfield Park.
His program will be a comprehensive, integrated approach — "the first of its kind anywhere in the country" — that doesn't just rely on "'You'll get a bonus.' It relies on objective standards, measured, re-training and training, and the performance is tied to exceeding those objective goals,'' Emanuel said. A new Chicago Leadership Collaborative will oversee the project.
So it seems the major stated difference in Emanuel's plan – besides principals themselves – is explaining  a contract that hasn't been written. Beyond that, watchwords like "comprehensive," "integrated," and "objective standards,"  seem sadly familiar to what we've heard before.
But who knows, maybe Emanuel will pull it off and the program will be a success. Among other things, that will depend on Chicago's school system proving to be less corrupt than Atlanta's. So, we're not exactly holding our breath.