Buyout Package Bingo: A Reason to Choose More Work for Same Pay?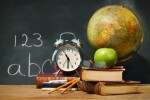 An example of irrationality? A colleague at another university was offered a buy-out package: a full year's pay if he would resign/retire at the end of the current semester. At the same time, his school also offered a phased retirement deal: two years at half-pay, with half a usual teaching load.
This economist chose to take the phased retirement, thus choosing the same pay, but teaching four courses over two years instead of no teaching. I think he's crazy; but I think you can write down a utility function that is consistent with his behavior and violates none of our assumptions about preferences.