The Price of Friendship, as Measured by Radiohead Tickets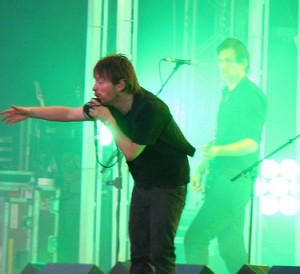 Photo: Ella Mullins
This morning, I got a hurried whisper-screaming call from my good friend Jonathan C.:
"I. Have. Radiohead. Tickets." He breathed. "Do you want one?"
If you don't know what I'm talking about, Radiohead is a very, very popular UK rock band. Tickets for the band's two New York shows, its first U.S. performance in 3 years, went on sale this morning on Ticketmaster and sold out in a couple minutes.
Radiohead is famous for doing price experiments with fans. At the height of illegal downloads, the band asked fans to pay-what-you-want for their album. They picked a small venue in New York — the Roseland Ballroom which accommodates 3,000 instead of Madison Square Garden which seats about 20,000 — and limited ticket sales to 2 per customer. But can limiting supply like this really stop a black market from emerging?
The answer is no. I checked Craigslist and there were already tons of ads. Economics tells us that limiting supply will only make price go up. I'm seeing average scalping prices right now — from $400 to $1000 for an $80 face value ticket. But what's more interesting to me are the desperate buyers, not the sellers. Sellers just list the price they'd like for their goods, but buyers — many of whom don't have that kind of cash — will start to barter in hopes that a seller is crazy enough not to take cash. This kind of thing is always fun for an informal study on people's utility curve. The Gothamist has a good roundup of weird things people are offering/asking for (a soul, a date, or "priceless heirlooms or foreign treasures.")
And of course, for a friend who's so kind to offer me a ticket (not free, but at cost) I did the only thing I could think of: map his utility curve.
There were 2 conditions to his offer: arrive on time, and 100% commitment to going. Both of which were fine by me. I surveyed him to try to understand why he would give up $1000.
Did you consider selling your extra ticket?
Nope, I always had it in mind to give/sell at cost to a friend.
What was your criteria for the extra ticket?
My criteria for the ticket was, first and foremost, love for the band. Though ultimately the key factor is someone that will help me have a better time at the show. Oh yeah, and definitely bragging rights has something to do with it, but not sure how it has to do with my friend selection. The bragging rights come simply with being able to go to the show, not who I go with.
Do you expect us to become better friends?
Yes, I expect us to be better friends, because we'll be standing in line forever!
Do I owe you something in return?
Yes, I expect that you will do me a big favor down the road! Like getting me tickets to see Bruce Springsteen or Taylor Swift. Or something.
And now, I'm going to price the friendship: How much would someone have to offer you for you to sell them my ticket, given that I've already accepted your offer?
Well, I will say that when you sent me that Craigslist link, I was like, "DUDE, I knew I could've gotten a lot of money for it, but not that much!!" But I didn't actually think about doing so. Now, if you were to suddenly bail on me, I would consider selling the ticket, but I'd almost rather NOT make the money and have someone to enjoy it with me. But I guess once you put it that way, then you're saying that I'd be willing to pay $900 to have a friend with me, that sounds a bit absurd. I guess if we were standing outside the venue, and some desperate fan who didn't get a ticket offered me $2000, I'd probably sell mine right there and then. But I wouldn't throw you under the proverbial bus (ie. sell your ticket), since that'd be really terrible of me. And since at this point, I consider the ticket "morally" yours, even if it's still "legally" mine.

So there you have it folks: friendship is >$900. Radiohead ticket = $2000. What a great friend! I'm going to keep his last name to myself in case a reader out there does want to blow $2000, then Jon would be put in a hard spot and I might have to go to the concert with you instead of him.